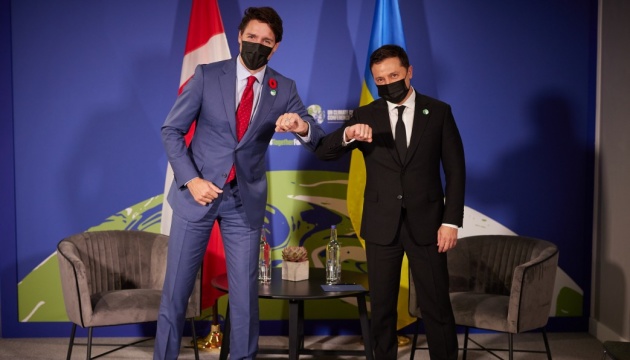 Zelensky, Trudeau discuss tightening sanctions against Russia, situation at border
During a telephone conversation, President of Ukraine Volodymyr Zelensky and Prime Minister of Canada Justin Trudeau agreed on the need to develop mechanisms to increase pressure on Russia in case of escalation of aggression against Ukraine.
As the press service of the Head of State informs, the phone conversation was held on the 30th anniversary of Canada's recognition of Ukraine's independence.
The President noted that Ukrainian people have always felt sincere support from friendly Canada.
"This is especially important and noticeable during the last eight years, when Canada has strongly opposed Russian aggression," Zelensky said and thanked Trudeau for the consistent and firm support for Ukraine's sovereignty and territorial integrity.
"All these 30 years, Canada has been and remains to be one of our leading partners and allies," the President said, noting the role of Canadians of Ukrainian origin in building friendly relations between the two countries.
Zelensky informed the Prime Minister of Canada in detail about the situation at the borders of Ukraine and noted the importance of the fact that the Chief of the Defense Staff of the Armed Forces of Canada is visiting Kyiv these days.
"Leaders were unanimous in their assessment of security threats in and around Ukraine, including the risk of destabilizing the socio-political situation. The importance of a coordinated response to the support for Ukraine by the international democratic community was emphasized. In this regard, the parties agreed on the need to develop mechanisms to increase economic, political and sanctions pressure on Russia in the event of escalation of aggression against our country," reads the statement.
The President and the Prime Minister also discussed ways to further involve Canada in the Crimea Platform activities.
The interlocutors also exchanged views on the prospects of visa liberalization for Ukrainian citizens, the need to expand the Free Trade Agreement, and the importance of further close coordination in bringing to justice those responsible for the downing of PS752.
In addition, Zelensky thanked Trudeau for his recent statement on the anniversary of the Holodomor.
ol