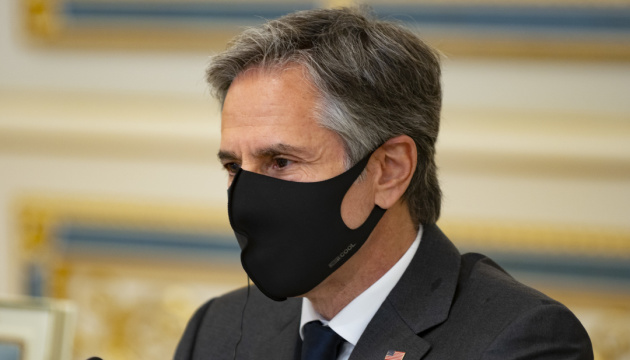 Blinken at OSCE accuses Russia of non-compliance with Minsk deal on Donbas
It is Russia, not Ukraine, that is not fulfilling the Minsk agreements on the peaceful settlement of the conflict that the Russians launched in eastern Ukraine.
According to a Ukrinform correspondent, this was stated by U.S. Secretary of State Antony Blinken during the 28th Ministerial Council of the Organization for Security and Cooperation in Europe (OSCE).
"Sergey (Lavrov, Russia's foreign minister - ed.) was talking about implementing Minsk. We fully agree. But let's also base that on the facts. There are a series of commitments that both parties made under Minsk with the OSCE involved as well," the top diplomat said in response to Lavrov's address accusing Ukraine of non-compliance with the Minsk accords.
The U.S. Secretary of State added that it's Russia that is not fulfilling these settlement agreements and cited a number of unfulfilled commitments by Moscow.
This is "ceasefire unimplemented by Russia, withdrawal of all heavy weapons unimplemented by Russia, allowing OSCE monitoring unimplemented by Russia, pass special status law implemented by Ukraine, pass amnesty law in progress, all-for-all political prisoner exchange unimplemented by Russia, ensure delivery of humanitarian assistance based on an international mechanism unimplemented by Russia, restoration of socioeconomic ties unimplemented by Russia. I could go on," Blinken said.
He noted "it takes two to tango" and therefore called on Russia to fulfill its obligations under the Minsk agreements, as the Ukrainian side does.
In his address, the U.S. Secretary of State also pointed out that the seizure of Crimea by Russia has led to large-scale human rights violations that are ongoing, both against Crimean Tatars and other Ukrainians who peacefully oppose Russian occupation.
He also expressed concern over Russia's possible plans of further large-scale aggression against Ukraine.
"So we call on Russia to respect Ukraine's sovereignty and territorial integrity to de-escalate, reverse the recent troop buildup, return forces to normal peaceful positions, and to implement the Minsk commitments, especially the ceasefire provisions and those allowing OSCE monitors unfettered access," said Blinken.
As Ukrinform reported earlier, the 28th Ministerial Council of the Organization for Security and Cooperation in Europe (OSCE) kicked off in Sweden's capital, Stockholm, on Thursday, December 2, with the participation of foreign ministers from 57 participating countries. It is expected that the issue of Russian aggression against Ukraine will be among the topics of many speeches.
im