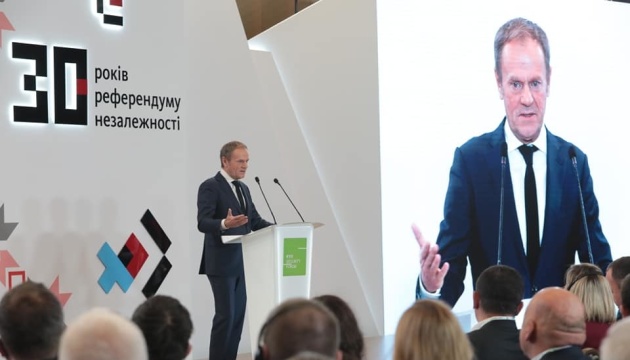 People in EU dream of European Ukraine - Tusk
There's support in the European Union for Ukraine because they dream of seeing it as a European country.
That's according to Donald Tusk, President of the European People's Party, former President of the European Council (2014-2019) who delivered an address to the Kyiv Security Forum, held by Arseniy Yatsenyuk's Open Ukraine Foundation.
Donald Tusk stressed that the struggle for a free and independent Ukraine is first and foremost a matter of the Ukrainians themselves.
"No one will dedicate themselves more than you to defending your territory, to building European defense capabilities," Tusk said.
"Please, have no doubt that our path was just as difficult, we also had foes and friends," said the president of the European People's Party.
He recalled that Poland was the first state to recognize Ukraine's independence on December 2, 1991.
Donald Tusk noted that all Polish politicians are united on the Ukraine issue: they support a free and independent Ukrainian state.
"You have the support of tens of thousands of Europeans, because we all dream of a European Ukraine, of making this dream a fact, an obvious one," the EPP president said.
im