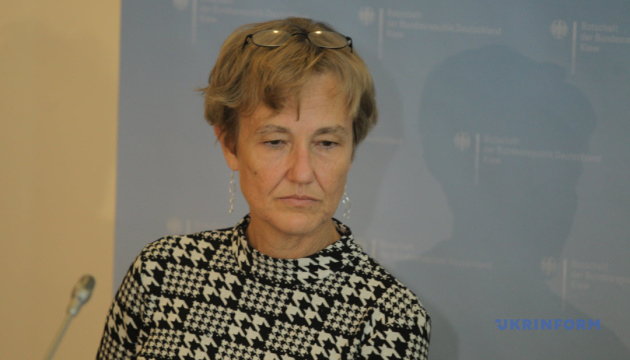 Direct aggression against Ukraine would lead to huge losses for Russia - Germany's ambassador
In the event of direct aggression against Ukraine, Russia would suffer huge losses, as the Ukrainian Army is now much stronger than it was back in 2014.
That's according to German Ambassador to Ukraine Anka Feldhusen who spoke in an interview with Interfax-Ukraine, Ukrinform reports.
"There've been many opinions that Russia could strengthen aggression. We had such fears in April, but nothing happened. I can't tell you whether Russia has such intentions either. But Ukrainian troops today are much stronger than they were in 2014. Russia would suffer huge losses," the diplomat is convinced.
She noted that she was in Ukraine in 2014 and remembers the situation at that time. "I may be a little calmer just because I've seen it before," Feldhusen said.
According to the diplomat, the movement of large numbers of Russian troops near the border is done so that "we do not know what they will do, so that we waste our time thinking about them."
The ambassador stressed that Ukraine and its partners are already thinking of how to avoid another offensive by Russia.
"Unlike 2014, today it wouldn't come as a surprise for us. We all, both in Ukraine and together with our partners, are already looking at ways of how to avoid this because no one wants a full-out war. A good result would be coordination between partners to clearly tell Russia what will happen if there another war is unleashed," Feldhusen said.
Speaking about the consequences that the offensive would yield for Russia, the German ambassador said: "You know all these possibilities, we have been talking about it for seven years. Especially in the financial sphere, there are still steps that can be taken."
As Ukrinform reported earlier, The Washington Post wrote citing sources among the U.S. and EU officials that the movement of Russian troops to the border with Ukraine was being recorded. At the same time, "unusual movement" of equipment and military in Russia's western regions was noted, which is reminiscent of the developments of April 2021 which caused a stir in the international community.
Later, Politico published imagery taken by a commercial satellite, in confirmation of the previous publication by The Washington Post.
On November 21, Kyrylo Budanov, head of the Ukrainian Defense Ministry's Main Intelligence Directorate, told Military Times that Russia had amassed more than 92,000 troops near Ukraine's borders and was preparing for an offensive that could be launched in late January-early February 2022.
On November 25, Secretary of the National Security and Defense Council, Oleksiy Danilov, said there was no imminent threat of a Russian large-scale invasion, although the situation could change.
im