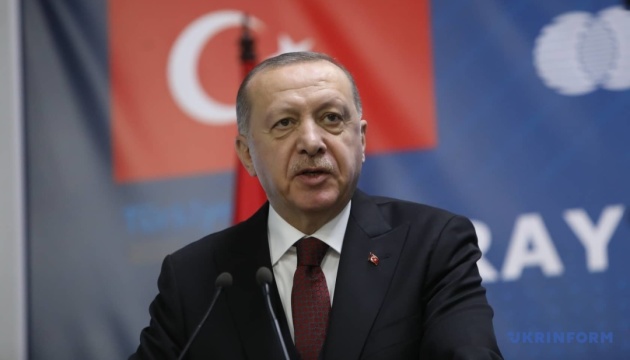 Erdogan offers mediation in Ukraine-Russia settlement talks
Turkey is ready to take part in resolving the crisis in eastern Ukraine as a mediator, hoping for a peaceful settlement.
That's according to Haber7 quoting Turkish President Recep Tayyip Erdogan as saying while answering journalists' questions during a briefing held upon his return from Turkmenistan, Ukrinform reports.
"Our position is clear here. We stand for peace in the region, especially with regard to the Crimean Turks. We have repeatedly discussed the issue with friendly Russia and especially with Mr. Putin," Erdogan said.
Asked about the Russian military buildup on the border with Ukraine and Turkey's possible mediation in settlement negotiations, given its good relations with both countries, the Turkish leader also expressed hope that peace would prevail in the region.
"We hope that the region will not become a war-torn zone. May this region further become a region where peace reigns. We'd like to see the attitude to this issue develop in a positive direction. There can be mediation in this regard, we can discuss this issue with them (Ukraine and Russia - ed.). We would like to take part in its solution, in discussion with both Ukraine and Mr. Putin," the outlet quoted the Turkish president as saying.
As Ukrinform reported earlier, Kyrylo Budanov, head of the Ukrainian Defense Ministry's Main Intelligence Directorate, said Russia had amassed more than 92,000 troops near Ukraine's borders and was preparing for an offensive that could be launched in late January-early February 2022.
im