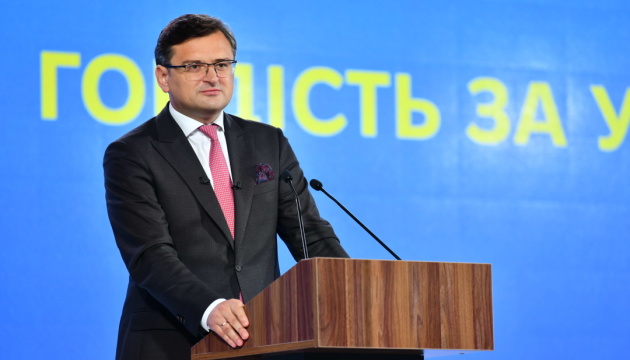 EU sanctions policy should deter Russia, Belarus from crossing "red lines" - Kuleba
Europe must develop a policy of sanctions against Russia and Belarus that would deter them from crossing the "red lines" rather than remain a reaction to such moves.
This was stated by Minister for Foreign Affairs of Ukraine Dmytro Kuleba in an interview with the Latvian news platform Delfi, published on the Foreign Ministry's website, in response to the question, whether Europe can do more in terms of sanctions against Russia and Belarus, Ukrinform reports.
"Yes, they may. And the best way would be to develop a policy of sanctions that would discourage Russia and Belarus from crossing the red line, rather than be a reaction to crossing them. It is better to prevent a crime, create conditions so that it cannot be committed, than to try to stop it in the process. This is the philosophy that the European Union should follow in relation to Russia and Belarus," Kuleba said.
He added that Ukraine greatly appreciates the support that Latvia has been providing to his country.
As Ukrinform reported earlier, The Washington Post wrote citing sources among the U.S. and EU officials that the movement of Russian troops to the border with Ukraine was being recorded. At the same time, "unusual movement" of equipment and military in Russia's western regions was noted, which is reminiscent of the developments of April 2021 which caused a stir in the international community.
Later, Politico published imagery taken by a commercial satellite, in confirmation of the previous publication by The Washington Post.
On November 21, Kyrylo Budanov, head of the Ukrainian Defense Ministry's Main Intelligence Directorate, told Military Times that Russia had amassed more than 92,000 troops near Ukraine's borders and was preparing for an offensive that could be launched in late January-early February 2022.
On November 25, Secretary of the National Security and Defense Council, Oleksiy Danilov, said there was no imminent threat of a Russian large-scale invasion, although the situation could change.
During a press marathon on November 26, President Volodymyr Zelensky stated that the possibility of a military escalation by Russia is out there every day, while Ukraine is fully prepared for any developments.
im