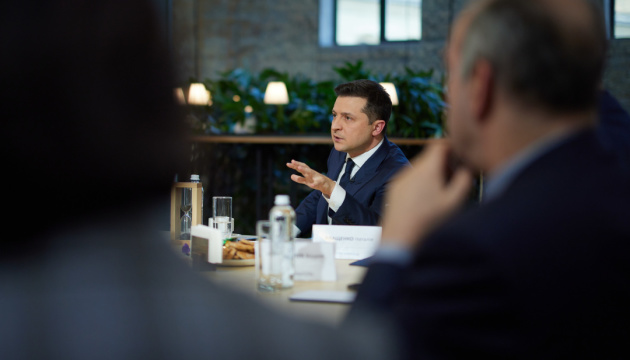 Zelensky: It's inexpedient to dismiss Yermak
Ukrainian President Volodymyr Zelensky believes that it is inexpedient to dismiss Andriy Yermak as head of the President's Office because someone does not like him.
The head of state said this during a press marathon "Thirty Questions to the President of Ukraine" on Friday, November 26, according to an Ukrinform correspondent.
While answering a question from a journalist, Zelensky asked not to compare Yermak with former DPR leader Alexander Zakharchenko.
"You cannot compare Zakharchenko and Yermak. First, Yermak did not kill people and he did not make such orders. On the other hand, Yermak was returning people whom former President [Petro] Poroshenko had to bring home. That's what Yermak did. He was returning sailors, he was engaged in a [detainee] exchange, and he conducted very important operations with many colleagues. More than a hundred people were brought home after our Normandy meeting, so I think that it is inexpedient to lose a powerful man just because Mr. Petro [Poroshenko] does not like him," he said.
Zelensky also noted that the heads of intelligence agencies of Ukraine's partner countries communicate with Yermak, which shows they trust him. "As far as the appointment of certain people from my team is concerned, the leadership of the best intelligence agencies of different states - our partners - is not just in dialogue with Yermak, but in a very powerful dialogue with him. The chiefs of staff of various presidents also know him," he said.
He said that Yermak had nothing to do with a special operation to detain members of the Wagner Private Military Company, which had been cut short last summer.
"As for the situation with Wagner group members, he did not have any opportunity or authority to talk about the approval of a certain operation, "- said Zelensky.
On November 17, Bellingcat published its investigation into a sting operation to arrest the fighters of Russia's Wagner Private Military Company, in which it analyzes the circumstances and reasons for its failure. In particular, the investigative journalists say that Head of the President's Office Andriy Yermak suggested postponing the special operation by a week in connection with achievement of the agreement on ceasefire in eastern Ukraine.
The State Bureau of Investigation plans to interrogate Yermak in the case of the operation to detain Wagner group mercenaries.
Kyrylo Budanov, head of the Main Intelligence Directorate of the Ukrainian Defense Ministry, in turn, said that Yermak could not influence the course of the special operation. The Ukrainian parliament's interim investigative commission did not find any evidence of a leak of information about the special operation from the Ukrainian side. The commission failed to establish which of the Ukrainian officials decided to postpone the operation.
op