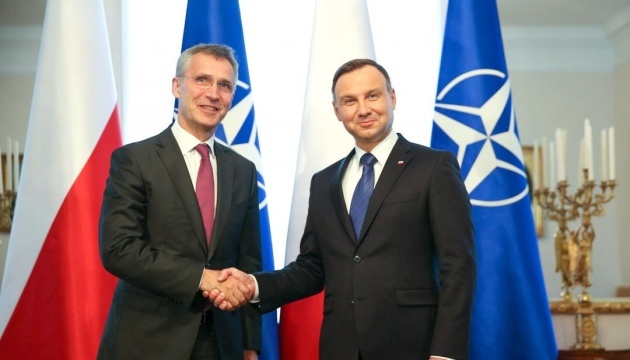 Stoltenberg: This is second time this year we see Russia's military build-up near Ukraine
NATO Secretary General Jens Stoltenberg has called on the Russian authorities to reduce tensions and de-escalate the situation around Ukraine's borders.
He said this at a joint press conference with Polish President Andrzej Duda in Brussels on Thursday, November 25, according to an Ukrinform correspondent.
"We monitor closely developments close to Ukraine. This is the second time this year we see a military build-up. We call on Russia to be transparent, to reduce tensions and to de-escalate," Stoltenberg said.
He noted that the provision by NATO of political and practical support to Ukraine is not a threat to Russia, but a sign of solidarity and support for Ukraine's territorial integrity.
Stoltenberg said that in relations with Russia, NATO continues to pursue a dual-track approach towards Russia: deterrence and defense, while maintaining dialogue with Russia.
"Especially when times are difficult as now, it is important to talk, to try to reduce tensions and to maintain said of military lines of communications open to prevent incidents and accidents," Stoltenberg stressed.
He recalled that Russia had closed NATO's offices in Moscow and suspended its diplomatic mission in Brussels. However, he said that NATO was ready to negotiate with Russia and discuss "difficult and sensitive issues related to this situation in and around Ukraine."
op