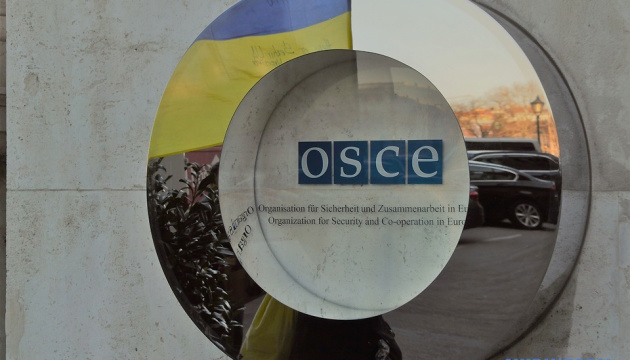 Ukraine at OSCE speaks of negative consequences of Russia's infrastructure projects in occupied Crimea
Ukraine is concerned about the negative consequences brought by the construction of the Tavrida highway in the occupied Crimea, which is accompanied by land expropriation and demolition of private property, as well as affecting the environment.
This was stated by Ukraine's Permanent Representative to international organizations in Vienna, Yevhenii Tsymbalyuk who spoke at a meeting of the OSCE Permanent Council in Vienna on Thursday, Ukrinform's own correspondent reports.
The Tavrida highway running across the peninsula is being built only to further the ongoing militarization of Crimea, Tsymbaliuk stressed, adding that the environmental fallout, along with the forced evictions, is leading to profound changes in the demographic composition in the region.
The diplomat pointed out that last week, the Russian occupation administration decided that the route would pass through the village of Zarichne, which means that dozens of families are being forced to leave their homes because their property is set to be demolished.
The head of Ukraine's Mission to the OSCE said that Russia was also purposefully using such tactics to suppress any opposition to the Russian occupation, as well as to force people who expressed discontent with the occupation to leave the peninsula.
The house of Rustem Useinov, a veteran of the Crimean Tatar movement, was literally demolished while he was away. The Russian occupation authorities are practically depriving Crimean Tatars of the right to live on their own land. Such outrageous behavior is absolutely unacceptable, according to Tsymbaliuk.
Separately, the diplomat pointed to the detention of 31 Crimean Tatars, including women and journalists, during a meeting outside the Simferopol remand prison with the local lawyer, Edem Semedlyaev, whose arrest term had expired.
Ukraine calls on the Russian Federation to fulfill its obligations under international humanitarian and human rights law and to release all illegally held Ukrainian citizens immediately, the Ukrainian ambassador said.
As reported, the construction of the 250 km-long Tavrida highway was launched in the occupied Crimea in 2017. The route stretches from Kerch in the east to Sevastopol in the west.
About two thousand land plots were confiscated from the Crimean residents during the construction to clear the way for the project.
Recently, the occupation authorities in Crimea decided to extend the Tavrida route to bypass Simferopol through the village of Zarichne along the peninsula's cleanest Ayan Reservoir. Homes of local residents who will interfere with the construction of the route will be demolished and activitsts are told they will be evicted.
im