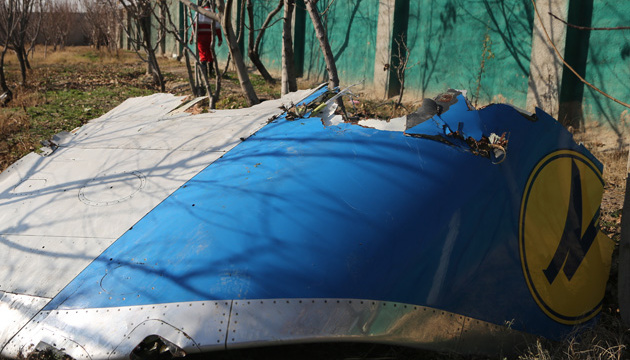 Ukraine plane crash: International group calls on Iran to make full reparations
The International Coordination and Response Group for the victims of Flight PS752 has reiterated its call on Iran to negotiate in good faith by the end of this year.
That is according to a joint statement issued by the group and posted on the website of the Ukrainian Foreign Ministry, Ukrinform reports.
"We, Ministers representing Canada, Sweden, Ukraine, and the United Kingdom, express our deep disappointment that the Islamic Republic of Iran has not accepted our multiple requests to meet on November 22, 2021 to negotiate on the matter of reparations for the downing of Flight PS752," the statement said.
The international group reminded Iran that "it must fulfill its international legal responsibility to make full reparations to the Group of Countries and thus reiterate our call to negotiate in good faith and to do so before the end of this year."
"We will continue to stand in solidarity with the families and loved ones of the PS752 victims in their profound loss and suffering. They can be assured that the Coordination Group will remain united in its objective to hold the Islamic Republic of Iran accountable for this tragedy," the statement added.
Should Iran continue to avoid negotiating with the group, the Coordination Group will have no choice but to seriously consider other actions and measures to resolve this matter within the framework of international law, the group said.
On January 8, 2020, the Ukraine International Airlines plane (Flight PS752) heading from Tehran to Kyiv crashed shortly after taking off from the Imam Khomeini International Airport. There were 176 people on board – nine crew members (all Ukrainians) and 167 passengers (citizens of Ukraine, Iran, Canada, Sweden, Afghanistan, Germany, and the UK). All of them died in the accident.
On January 11, 2020, Iran admitted that its military had accidentally shot down the Ukrainian passenger jet. Iran's Islamic Revolutionary Guard Corps (IRGC) accepted full responsibility for the downing of the Ukrainian airliner.
On November 22, 2021, hearings over the downing of the plane began in an Iranian military court.
op