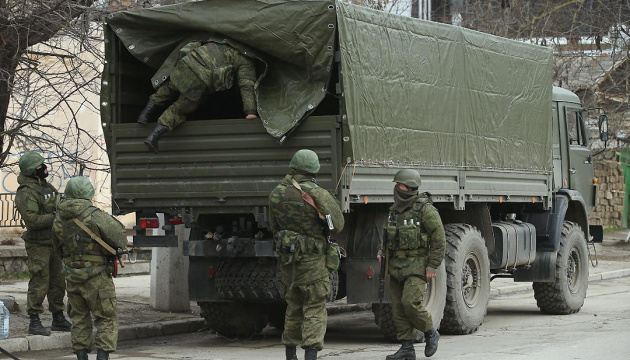 Russian invasion of Ukraine unlikely to be 'imminent' - Reuters
A full-scale Russian offensive in Ukraine is unlikely to be imminent, and a build-up of Russian troops on the Ukrainian border is likely to be another demonstration of Russia's readiness to defend its "red lines" on Ukraine.
That's according to an article by Reuters, Ukrinform reports.
"Reuters spoke to more than a dozen sources, including Western intelligence officials and Russians familiar with Kremlin thinking, and nearly all agreed that an invasion is unlikely to be imminent," the article said.
According to experts, President Vladimir Putin is using the credible threat of military force to signal that Russia is serious about "defending its 'red lines' on Ukraine."
Putin, these sources added, is adept at escalating and de-escalating crises - as he did in the spring, when more than 100,000 Russian troops gathered near Ukraine's border and subsequently pulled back.
According to experts, in this way, he is reminding the West that Russia is a "force to be reckoned with."
According to Samir Puri, senior fellow in hybrid warfare at the International Institute for Strategic Studies (IISS), if it were a full-scale invasion, Russia could "contemplate attacking from the north (from Russia and its ally Belarus), from the east or from the south (via Crimea, which Russia seized from Ukraine in 2014), with a naval assault on the cities of Odessa and Mariupol."
Experts said the West imposed sanctions on Russia after the seizure of Crimea and could add painful new measures, such as preventing it from pumping Russian gas through the newly built Nord Stream 2 pipeline to Germany. "Putin would risk a complete rupture of relations with the West if he invaded. It is unclear how far NATO might come to the defense of Ukraine, something that would be fraught with risk for all sides. Ukraine is not a member of NATO, but doing nothing would leave the alliance looking irrelevant," the article added.
"Both in NATO in Brussels and in Moscow there will be calculations around where the escalatory steps could lead. If NATO was to deploy to fight ... the Russians would see this as an unbelievable escalation," said Puri.
He said that "whether (Ukraine) ends up as a battleground I think is unlikely," but it is clear that this issue is now relevant in relations between Russia and NATO.
Earlier reports said that Russia had amassed about 92,000 troops near Ukraine's border.
Kyrylo Budanov, head of the Main Intelligence Directorate of the Ukrainian Defense Ministry, said that the Russian invasion could take place in January-February from several directions: through sections of the eastern borders (both government-controlled and non-government-controlled), as well as from Crimea and Belarus.
Photo: Sean Gallup / Getty