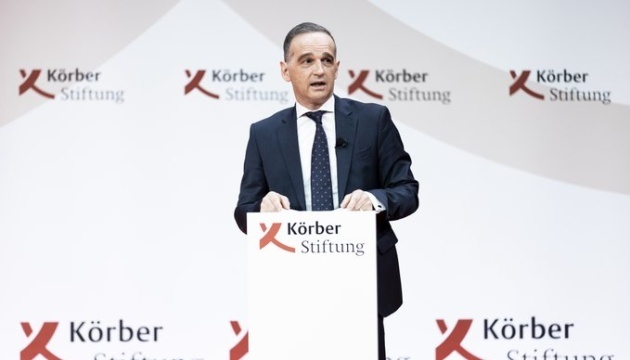 Ball on Moscow's pitch: Germany seeks to bring Russia back at negotiating table
Among preconditions for improving relations between Germany and Russia is the settlement of Russia's conflict with Ukraine and the return to the negotiating table in the Normandy format.
That's according to Acting German Foreign Minister Heiko Maas who spoke during the Berlin Foreign Policy Forum on November 23, an Ukrinform correspondent reports.
Maas says Berlin seeks better relations with Russia "but this requires progress, in particular in resolving the conflict in eastern Ukraine – based on the Minsk agreements."
The top diplomat recalled that Russia had recently refused to meet for a Normandy Four foreign ministerial amid the "extremely alarming" latest news about the movement of Russian troops near the border with Ukraine.
"These processes show that the ball for resolving the existing contradictions is now on Moscow's pitch. The European Union speaks with one voice here, of which I'm firmly convinced," said the German diplomacy chief.
Maas is convinced of the need to engage in dialogue with those who do not share European values, as "maximum pressure" and attempts at isolation, a policy of "separation" or insistence on one's own moral superiority rarely lead to achieving goals in international politics.
It is therefore important that Germany advocates diplomatic solutions to conflicts and controversies around the world – even if this initially causes domestic misunderstanding or criticism, the diplomat said. He added that Germany would never defend its values ​​from a weak position: its economy is strong, society – stable, and state – viable, while Berlin has strong partners and allies in the European Union, NATO, and around the world.
The German foreign minister said that, although his country is ready to continue to assume international responsibility in the future, it is clear that "the levers of influence on other countries have limits, and the export of acceptable forms of governance cannot be the sole goal of German foreign policy."
"Instead, German foreign policy must set realistic goals for the future that are in line with clearly defined German interests: it is time to get rid of any illusions," Maas said.
The two-day Berlin Foreign Policy Forum, organized annually by the Kerber Foundation, is taking place November 22-23, in a hybrid format. Its topic is Germany's foreign policy in the "post-Merkel era."
im