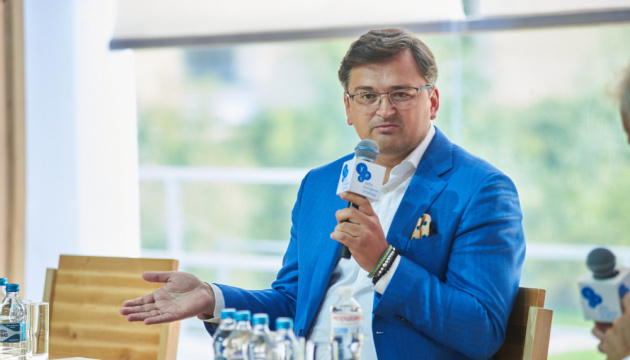 Ukraine achieved necessary result in security talks with US, EU, NATO - Kuleba
Ukraine's key Euro-Atlantic partners are currently developing a comprehensive package to deter Russia from expanding aggression, Ukrainian Foreign Minister Dmytro Kuleba has said.
He said this at an online briefing on Thursday, November 18, according to an Ukrinform correspondent.
Kuleba noted that a large Ukrainian delegation visited Washington last week and he paid a working visit to Brussels this week.
"We have mobilized our key Euro-Atlantic partners in both capitals in support of Ukraine. Work is underway between various capitals and institutions to develop a comprehensive package to deter Russia. It includes political and diplomatic pressure, painful economic blows in the event of expanded aggression and a list of specific needs to strengthen the Ukrainian Armed Forces," Kuleba said.
He recalled that during his visit to Brussels, he held talks with NATO and EU leaders, EU foreign ministers, the ministers of the Association Trio countries, Normandy Four countries, but without the Russian side, and took part in a meeting of EU foreign ministers and Eastern Partnership partners. "But, of course, the key topic was the security of Ukraine," Kuleba said.
He said that talks with NATO Secretary General Jens Stoltenberg were very important in this context. "We discussed the security situation and our joint fight against hybrid threats from Russia. The Secretary General invited me to take part in a meeting of NATO foreign ministers to be held in Riga from November 30 to December 1. This is an important sign of the Alliance's trust in Ukraine, the special status of our relations because we are one of NATO's closest partners in the Black Sea region," Kuleba said.
He also noted that Russia's aggression in both diplomatic and military areas has increased significantly in the past few weeks.
At the same time, Kuleba noted that Ukrainian diplomats, actively consolidating partners, are strengthening security in three areas - allies, sanctions, and weapons. He said that the issue concerned political support for Ukraine from key Euro-Atlantic partners, increasing diplomatic and sanctions pressure on the aggressor state and reaching agreements on the supply of additional defensive weapons for the Ukrainian army. "My talks in the United States last week and in the EU and NATO this week pursued this goal. And we have now returned with the necessary result," he said.
Ukraine's Mission to the OSCE said at a meeting of the OSCE Forum for Security Co-operation in Vienna on November 17 that Russia's military build-up near the Russian-Ukrainian border shows that the Kremlin is considering various options, including a potential military invasion of Ukraine.
op