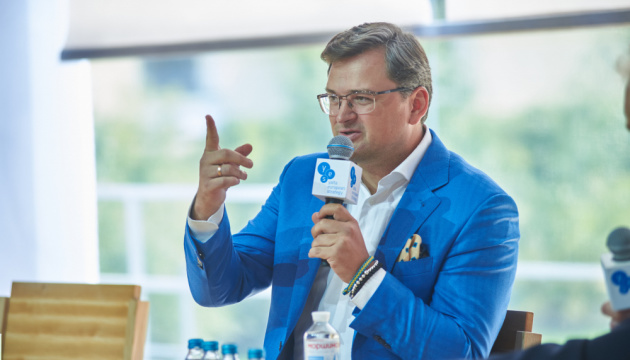 With its actions, Russia seeks to "finish" Normandy format - Kuleba
With their latest actions, including the leak of confidential diplomatic correspondence, Russia is "finishing" the Normandy format of talks on Donbas settlement and undermines what's left of international trust.
This was stated by Foreign Minister Dmytro Kuleba who spoke at an online briefing on Thursday, November 18, an Ukrinform correspondent reports.
"I wanted to make a sarcastic joke or do a bit of trolling over the publication of diplomatic correspondence in the Normandy format, but the reality is that there's nothing good about it. With its actions, Russia is simply finishing the Normandy format, showing that it is not interested in its development, and, of course, they're undermining what's left of trust in them," Kuleba said.
According to the top diplomat, the foreign ministers of Ukraine, Germany, and France agreed that "they will not offer Russia the luxury of destroying the Normandy format with someone else's hands."
"We will work to engage Russia in the negotiation process, in diplomatic efforts to resolve the conflict. The thing is that after such a leak, even diplomats can't trust Russia, which will certainly further complicate our work. But we will keep working because Ukraine seeks peace, fair decisions, and security," Ukraine's foreign minister stressed.
Commenting on the future of the Normandy Four platform in the wake of Russia's recent moves, Kuleba noted that the only alternative to the diplomatic process is military action.
"Together with Germany and France, Ukraine will continue to insist that we need to move toward the implementation of the Minsk Agreements and continued work of the Normandy format," the diplomacy chief concluded.
On November 17, the Russian Foreign Ministry published what they said was confidential diplomatic correspondence between Russian Minister Sergei Lavrov his French and German counterparts, Jean-Yves Le Drian and Heiko Maas.
im