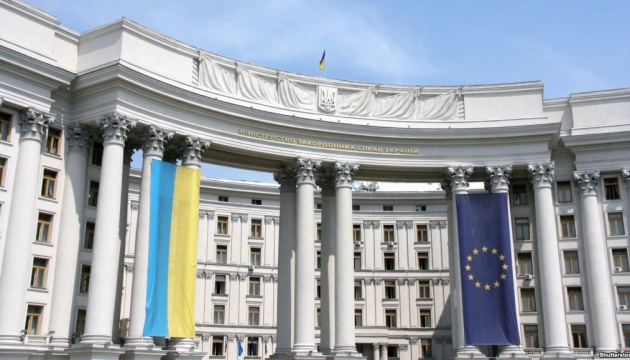 Ukraine sends note of protest to Russia over Putin's decree on goods from CADLR
The Ministry of Foreign Affairs of Ukraine regards the Russian president's decree on equating the goods from certain areas from Donetsk and Luhansk regions (CADLR) with the Russian ones as gross interference in the internal affairs of Ukraine and sent a corresponding note of protest to Russia.
As noted in the Ministry's statement, Putin's signing of Decree No. 657 of November 15, 2021, on recognition by Russia of so-called "certificates of origin" issued in the areas of Donetsk and Luhansk regions temporarily occupied by Russia is the gross interference in Ukraine's internal affairs, violation of its laws and regulations of international law.
The Foreign Ministry emphasizes that the recognition of "certificates", unilateral designation of checkpoints to transfer goods across the temporarily uncontrolled part of the state border of Ukraine, and other measures enshrined in the decree clearly demonstrate Russia's purposeful policy to drag the temporarily occupied territories of Ukraine to its economic, political, electoral and informational space.
"The signing of the decree contradicts Russia's obligations under the Minsk agreements and the agreements within the Normandy format, undermines the efforts of Germany, France, and Ukraine to restore the efficient work of these important sites for a peaceful settlement," the Foreign Ministry underscores.
The Ministry points out that it will continue to consolidate international support for Ukraine to force Russia to renounce destructive actions and embark on a path of political and diplomatic settlement of the Russian-Ukrainian armed conflict.
The relevant note of protest was sent to the Ministry of Foreign Affairs of the Russian Federation.
As reported, Russian President Putin signed a decree recognizing certificates of origin of goods produced in certain areas of Donetsk and Luhansk regions. He instructed to equate them with Russian goods. The document states that the decision was made "as an exception until the political settlement of the situation is reached."
ol