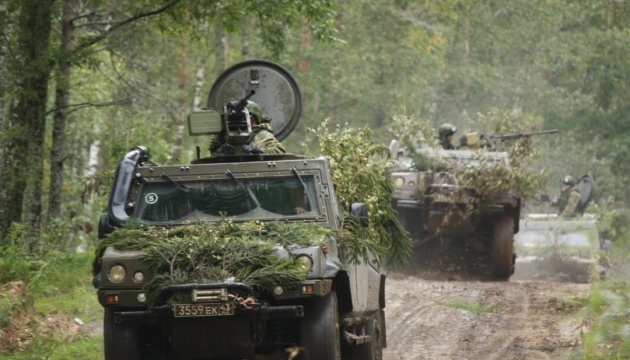 Berlin and Paris warn Moscow about consequences of aggression against Ukraine
Germany and France call on Russia not to escalate the situation with Ukraine and warn about the catastrophic consequences of aggression.
"Against the backdrop of renewed concerns about Russian movements of troops and hardware near Ukraine, we call on Russia to adopt a posture of restraint and provide transparent information about its military activities. Any new attempt to undermine Ukraine's territorial integrity would have serious consequences," reads the joint statement by ministers of foreign affairs of Germany and France on support for Ukraine, released on the website of the German Federal Foreign Office on November 15.
At the same time, Heiko Maas and Jean-Yves Le Drian call on Ukraine to "maintain a posture of restraint". The document highlights that Ukraine contributed significantly to the de-escalation of the situation in spring 2021, despite Russian aggressive rhetoric and failure to provide transparent information in line with its international obligations.
The ministers also pointed out concerns about the deteriorating humanitarian and security situation in Donbas.
They called on Ukraine to continue the full implementation of the Minsk agreements and to maintain its full engagement into the discussions conducted in the Normandy format.
"We remain committed to the resolution of the conflict on the basis of the Minsk agreements. We express regret that Russia has repeatedly refused to meet at the level of Foreign Ministers in the Normandy format and once more express our readiness to meet and engage constructively and substantially. We repeat our call on Russia to do the same in order to achieve lasting peace in Donbas," reads the statement.
It is underscored that Germany, France, and Ukraine will continue to exchange and coordinate closely on all matters of common interest and concern.
"Germany and France are steadfast in their unwavering support for the independence, sovereignty and territorial integrity of Ukraine," the statement says.
German Federal Minister for Foreign Affairs Heiko Maas and Minister for Europe and Foreign Affairs of France Jean-Yves le Drian met with Minister for Foreign Affairs of Ukraine Dmytro Kuleba on the sidelines of the Eastern Partnership Foreign Ministers meeting in Brussels on Monday.
As Kuleba told reporters, France and Germany assured that a large-scale operation against Ukraine would have extremely severe consequences for Russia.
"We discussed the security situation around Ukraine and in the occupied territories of Ukraine and Russia's latest actions. France and Germany have assured me that if Russia dares to launch a large-scale military operation against Ukraine, this will have extremely serious consequences for Russia," he said.
Kuleba added that the parties agreed to hold appropriate communication with the Russian Federation in order to "so to speak, discourage it from resorting to any aggressive actions."
The minister noted that the meeting was initiated by France and Germany as minister Lavrov did not find an opportunity to join.
The foreign ministers of the three countries also agreed that the Normandy format at the level of foreign ministers should be maintained.
"We will continue to work towards having a four-party meeting so that we can sit down with Russia, represented by minister Lavrov, and have an open and substantive dialogue. As you know, it is possible to reach comprehensive agreements within the Normandy format only when all four participants are sitting at the table," Kuleba stressed.
ol