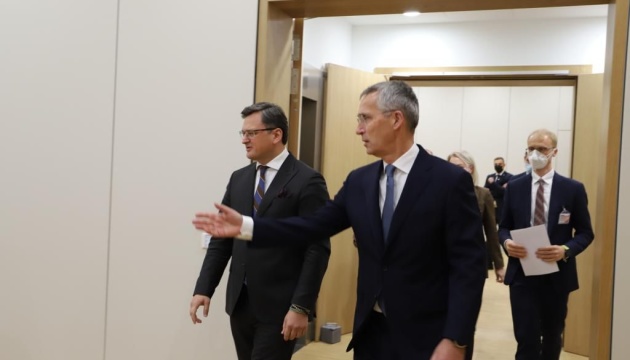 FM Kuleba: Ukraine bolsters defenses on northern flank
The Government of Ukraine is doing everything possible to bolster defenses on the northern flank, given the unfriendly attitude of the Belarusian leader towards the country.
"I would like the Belarusian leaders to be more friendly to Ukraine so that we can see the northern flank as a safe place but, unfortunately, this is not the case," Minister of Foreign Affairs of Ukraine Dmytro Kuleba said at a joint press briefing with NATO Secretary General Jens Stoltenberg in Brussels, an Ukrinform correspondent reports.
He noted that, from a military point of view, the wider range of threats arises, the more dangerous the situation is.
"But I want to assure you that the Ukrainian Government is doing everything possible, taking all measures, cooperating with the closest partners to bolster our defenses on the northern flank, to make sure that our country is protected from all sides," he said.
As reported, Minister of Foreign Affairs of Ukraine Dmytro Kuleba makes a working visit to Brussels.
The migrant crisis on the border between Belarus and the EU has been ongoing since the end of June. Lithuania, Poland, and Latvia accuse Belarus of deliberate migrant pressure on their countries and the EU as a whole, calling this a "hybrid attack."
The situation worsened on November 8, when a large group of migrants tried to force through the border with Poland.
The EU will impose the fifth package of sanctions on Belarus over the situation on the border.
ol