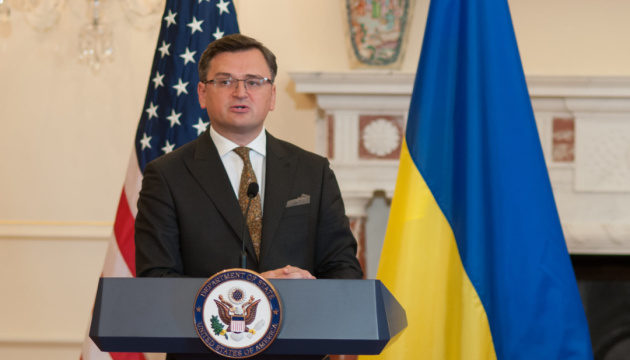 Kuleba: Nord Stream 2 security issue of Euro-Atlantic scale
Russia's Nord Stream 2 gas pipeline is not only Ukraine's problem, it is also a threat of pan-European scale and a security challenge for the entire Euro-Atlantic community.
That's according to Ukraine's Minister for Foreign Affairs Dmytro Kuleba, who is now on a visit to the United States, an Ukrinform correspondent reports.
"Nord Stream 2 is not only Ukraine's issue, it's a pan-European issue, and in terms of security, it's an issue for the whole Euro-Atlantic space. The success of Nord Stream 2 will make Russia more impudent in its actions," the foreign minister said responding to Ukrinform's question.
The top diplomat said Russia's gas pipeline bypassing Ukraine was on the agenda of talks with his American counterpart, Secretary of State Anthony Blinken.
"I'm pleased with what I heard from Anthony Blinken about Nord Stream 2 during the talks," Kuleba said.
The diplomacy chief added that the Ukrainian side was ready to further actively discuss the topic with the country's international partners.
"On Monday, I'll be in Brussels, where the meeting of the European Union's foreign ministers will take place. The ministers of the Eastern Partnership countries have also been invited there. There we will also talk about Nord Stream 2," said the Ukrainian minister.
In addition, he stressed that Ukraine is discussing this issue in "bilateral tracks" with Germany, Poland, and a number of other countries.
im