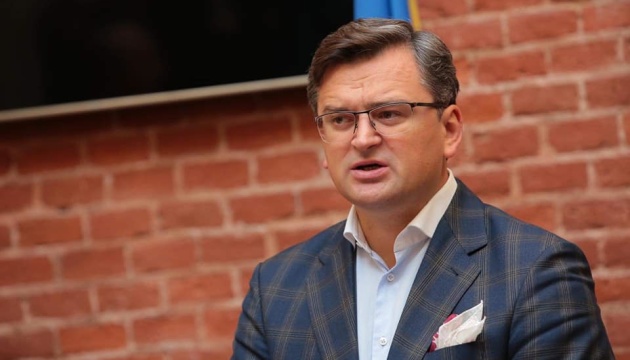 Ukraine expects int'l reaction to Kremlin's use of gas as weapon - Kuleba
The Ukrainian side isn't shy about telling American and German partners that Russia is deliberately manufacturing a crisis in the EU energy market, using energy resources as a weapon, which requires an appropriate response.
Foreign Minister Dmytro Kuleba touched upon the issue during a Washington briefing on Tuesday at the beginning of his U.S. visit, Ukrinform's own correspondent reports.
"Of course, the energy crisis that Russia has now created on the European Union market is about the use of gas as a weapon. We aren't shy to say that we remember very well the joint statement by the United States and Germany saying that, if Russia starts using energy as a weapon in international relations, Germany will resort to decisive action," the Ukrainian foreign minister said.
He noted that the Ukrainian side respects and remains grateful to Germany for the consistent support of Ukraine. "But we have a question: what is actually happening, and what actions are being taken now to put Russia back to its place?" Kuleba stressed.
According to the top diplomat, at the meetings scheduled to be held during the visit, the issue of Ukraine's energy security will be raised. It will become one of the main topics of discussion in Washington – along with issues of security and defense, as well as economic development. Moreover, the discussion of the Nord Stream 2 issue is expected as well, the minister noted.
As Ukrinform reported earlier, Ukrainian Foreign Minister Dmytro Kuleba arrived in Washington on Tuesday at the helm of a government delegation to take part in a meeting of the Ukraine-U.S. Strategic Partnership Commission.
im