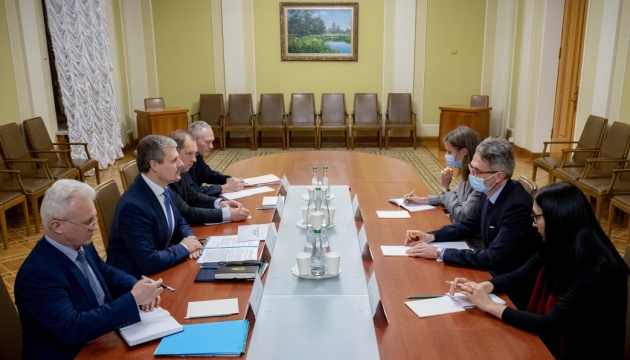 Mashovets, Sweden's ambassador discuss security situation in eastern Ukraine
Deputy Head of the Ukrainian President's Office Roman Mashovets has held a meeting with Ambassador of Sweden to Ukraine Tobias Thyberg.
Ukrinform reports this with a reference to the president's press service.
"Roman Mashovets informed Tobias Thyberg about the complication of the situation in eastern Ukraine and the concentration of an armed group along the Ukrainian border ready to be used by the Russian Federation against our state at any moment. He focused on Russia's holding of a series of exercises against Ukraine this year, the asymmetry of Russia's actions and its use of Belarusian territory to possibly expand aggression," the report says.
The President's Office deputy head also stressed that Russia is actively using information, energy and other non-military resources as weapons. In particular, Mashovets provided examples of Russian disinformation campaigns and the first consequences of the Nord Stream 2 gas pipeline, when Europe faced an energy crisis stimulated by the Russian side in September-October.
"For his part, Tobias Thyberg noted that Sweden, as the country chairing the OSCE, is closely monitoring the security situation around Ukraine, making efforts to stabilize it and promoting coordination between the United States and the European Union to ensure security in Europe. The Swedish ambassador called on the Ukrainian leadership to deepen the dialogue with the EU, and also noted that the European Union must have a good understanding and proper assessment of the security situation in order to prepare the necessary response," the report says.
In addition, the parties agreed to continue security consultations and exchange of information on the situation in eastern Ukraine and near its eastern borders.
iy