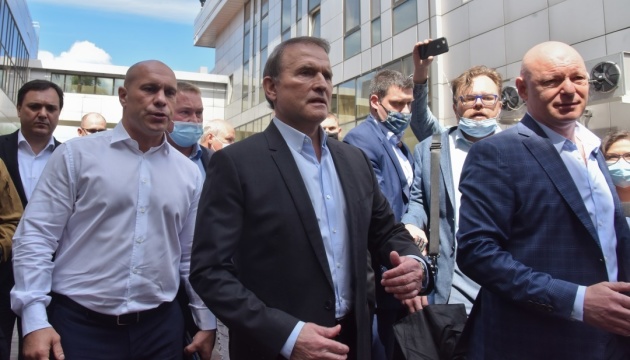 Measure of restraint for Medvedchuk in treason case changed to personal recognizance
Kyiv's Pechersky District Court has chosen a measure of restraint in the form of personal recognizance until December 31 for Viktor Medvedchuk, an MP from the Opposition Platform – For Life party who is accused of treason and the attempted plundering of national resources, the Prosecutor General's Office has told Ukrinform.
The agency said the six-month deadline for the suspect's round-the-clock house arrest in this criminal case has expired, so its further extension is impossible. Personal recognizance is the only measure of restraint that the prosecution could request at this time, it said.
In addition, Medvedchuk must arrive at every request of the pretrial investigation body, prosecutor or court, not leave Kyiv and Kyiv region, refrain from communicating with suspects, witnesses, hand in his passports for travel abroad and other documents allowing him to leave or enter Ukraine to the pretrial investigation body, as well as wear an ankle monitor.
A court in May this year placed Medvedchuk under 24-hour house arrest in the case of treason and the attempted plundering of national resources in Crimea.
At the same time, he is still under 24-hour house arrest until December 7 in another case where he is suspected of colluding with Ukrainian officials to thwart a contract for coal supplies from South Africa at the start of Russian aggression. The investigation also believes that Medvedchuk participated in the organization of a coal smuggling scheme with ORDLO (certain areas of Donetsk and Luhansk regions), as a result of which pro-Russian terrorists received more than UAH 200 million.
op