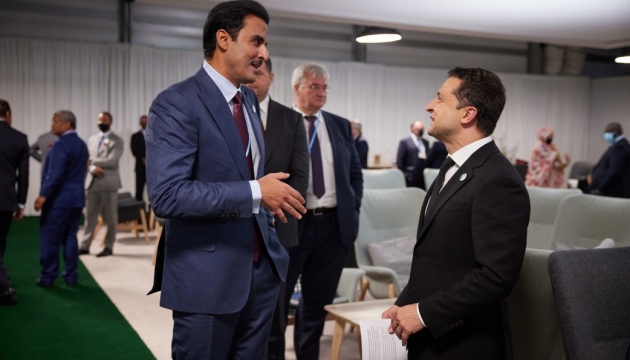 Ukrainian president meets with Emir of Qatar in Glasgow
Ukrainian President Volodymyr Zelensky has met with Emir of Qatar Tamim Bin Hamad Al Thani on the sidelines of the COP 26 UN Climate Change Conference in Glasgow, the presidential press service has reported.
According to the report, both parties discussed the possibility of intensifying bilateral trade and mechanisms for implementing the agreements reached during the visit of the President of Ukraine to Qatar in April 2021, including agreements in the food and investment spheres.
"Intensifying trade and economic cooperation is one of our main common tasks," Zelensky said.
During the meeting, special attention was paid to the development of defense cooperation between the two countries.
Both parties also discussed the possibility and conditions of supplying liquefied natural gas from Qatar to Ukraine.
In addition, Zelensky thanked the Qatari side for assistance in evacuating Ukrainian citizens from Afghanistan and emphasized the importance of further cooperation in this area.
The president renewed the invitation for the Emir of Qatar to visit Ukraine.
op