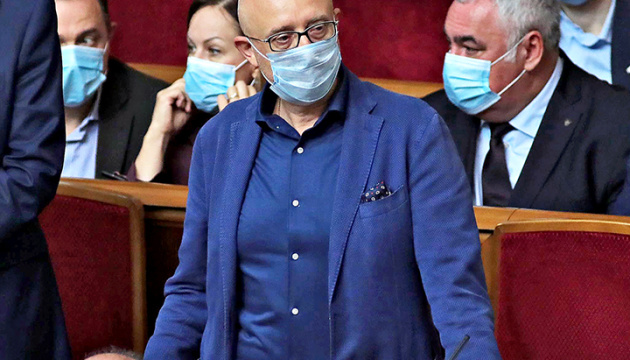 Servant of the People to nominate Reznikov for Ukraine's defense minister - Arakhamia
Servant of the People MPs are planning to nominate MP Iryna Vereshchuk for the post of Deputy Prime Minister - Minister for Reintegration of Temporarily Occupied Territories of Ukraine instead of Oleksiy Reznikov, who is to be appointed the country's defense minister.
The head of the Servant of the People faction in parliament, David Arakhamia, said this at a briefing after a meeting of the parliament's conciliatory council on Monday, November 1, according to an Ukrinform correspondent.
"As for Mr. Reznikov, I think everyone understands that in the field of defense and procurement, the rules have changed significantly due to the fact that we have adopted a new law on defense procurement. It started working only a few months ago. Now the Ministry of Defense needs very rapid changes. […] In fact, Mr. Reznikov has already proved his professionalism and diplomacy, he has a good reputation among international partners, that's why we made such a decision," he said.
Arakhamia added that Servant of the People had decided to delegate Vereshchuk to the position currently held by Reznikov, as members of the faction are convinced that she will be able to "perform this work professionally."
Reznikov filed a letter of resignation on November 1.
The Verkhovna Rada adopted the law "On Defense Procurement" on July 17, 2020. The document came into force on January 1, 2021.
op