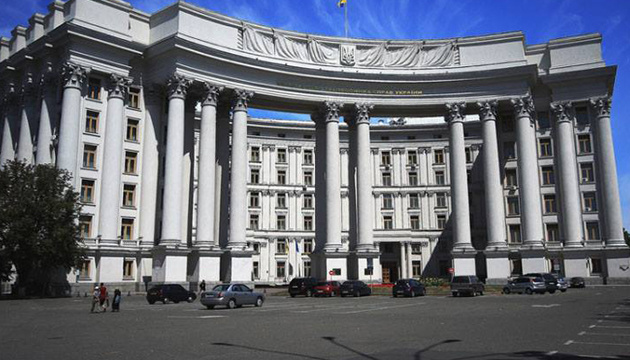 MFA Ukraine protests verdict in Crimean Tatars' case
The Ministry of Foreign Affairs of Ukraine has expressed protest over the ruling of Russia's Southern District Military Court to convict four Ukrainian nationals in the so-called "Third Bakhchisaray-based Hizb ut-Tahrir group."
That's according to the MFA Ukraine's press service Ukrinform reports.
Russia's FSB has illegally detained these citizens in the territory of the temporarily occupied Crimea and, accusing them under Article 205.5 of the Criminal Code of the Russian Federation (setting up a terrorist organization.")
Also in violation of international law, they were unlawfully moved to the Russian territory, the city of Rostov-on-Don.
"By today's so-called "sentencing" for imprisonment of Seitumer Seitumerov (for 17 years), Osman Seitumerov (14 years), Amet Suleymanov (12 years), and Rustem Seitmemetov (13 years) on trumped-up charges, the Russian Federation has once again demonstrated its policy of repression and oppression, aimed to intimidate and suppress any dissenting civil movements and initiatives in the temporarily occupied Crimea," the comment reads.
Ukrainian diplomats say Russia must overturn the court ruling and immediately release Seitumer Seitumerov, Osman Seitumerov, Rustem Seitmetemov, and Amet Suleymanov, as well as all other illegally held Ukrainian citizens.
"We call on the international community to condemn Russia's illegal prosecution of dissent and the systematic abuse of anti-terrorism legislation as regards Ukrainians and Crimean Tatars in Crimea, to increase diplomatic pressure on Russia to release all illegally held Ukrainian citizens, and to continue protecting the rights and freedoms of the residents of the Crimean peninsula, including within the framework of the Crimea Platform," says the comment.
As Ukrinform reported earlier, on October 29, a Russian court sentenced four members of the "third Bakhchisaray group" to 12 to 17 years in a maximum-security penal colony.
A rally in support of those targeted in the case was held outside the court premises in occupied Crimea's Simferopol, where Russian security forces detained 30 of its participants. First Deputy Foreign Minister of Ukraine Emine Dzheppar said two of those apprehended are journalists.
im