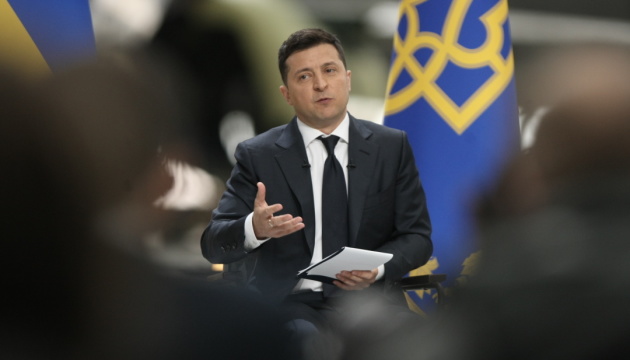 Swapping Medvedchuk for Kremlin prisoners: Zelensky names condition
Exchanging MP Viktor Medvedchuk for Ukrainian political prisoners illegally held by Russia would be possible if Vladimir Putin's political ally had Russian citizenship, President Volodymyr Zelensky assumes.
The relevant statement came as Zelensky was speaking with ICTV, Ukrinform reports.
"Medvedchuk is a citizen of Ukraine, and it's Ukrainian law that applies to him. On the other hand, if, for example, Russia confirms that Medvedchuk has Russian citizenship, let's suggest, we'd be happy to consider after such confirmation or at least a hint the opportunities to exchange Medvedchuk for real heroes and citizens of Ukraine who are (being held - ed.) outside in Ukraine," Zelensky said.
At the same time, answering the journalist's question on whether Russia offered certain concessions on its part in exchange for dropping charges off Viktor Medvedchuk, the president said there were "no such hints or "direct speech."
As reported earlier, the prosecutor's office put forward a motion to hold Viktor Medvedchuk, a Ukrainian legislator who is widely believed to be one of Vladimir Putin's main political operatives in Ukraine, in custody, setting a UAH 1 billion bail, thus strengthening the restraint measure currently applied, which is house arrest.
The investigators say Medvedchuk persuaded the then-leadership of Ukraine to receive coal from the temporarily occupied territories of Donetsk and Luhansk regions and pay directly to the leaders of terrorist organizations nominally controlling the areas.
According to Prosecutor General Iryna Venediktova, throughout 2015, at least UAH 200 million was transferred, processed, and distributed in the terrorists' favor for coal supplies from the temporarily occupied territories of Luhansk and Donetsk regions as part of a general criminal plot to promote the "LPR" and "DPR" terrorist organizations. That's not counting the funds paid in cash, out of the total target of over UAH 3.16 billion.
On October 12, the Pechersk District Court in Kyiv overruled the prosecutors' motion to remand Medvedchuk in custody and judged to retain house arrest until December 7.
Photo: Office of the President of Ukraine
im