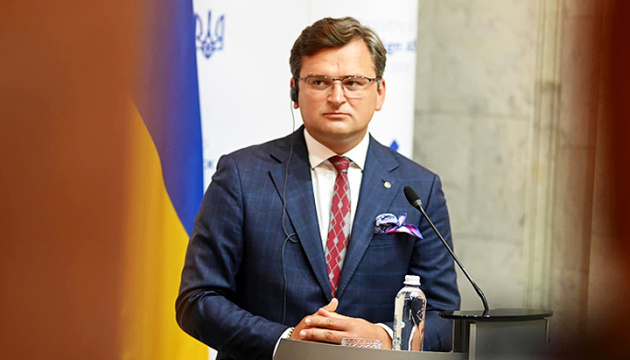 No clear answer on Putin-Zelensky meeting means Kremlin is confused - Kuleba
Russia, on the one hand, avoids a meeting between the Ukrainian and Russian presidents in every possible way but, on the other hand, it does not stop talking about it, which means that the Kremlin is confused.
Ukrainian Foreign Minister Dmytro Kuleba said this at an online briefing on Wednesday, October 13, according to an Ukrinform correspondent.
"Every day I receive some news from Russia where officials comment on the prospects for holding this meeting [between the presidents of Ukraine and Russia]. On the one hand, they avoid this meeting in every possible way and, on the other hand, they cannot stop talking about it. At the moment, we are actually waiting for a clear answer from Russia on whether they are ready to meet or not," Kuleba said.
He said the meeting between Zelensky and Putin could have taken place as part of the Normandy Four summit if this summit is held, "and we want it to be held soon."
"This is a matter of negotiations. But the main thing is that Russia now looks confused and cannot give us a clear answer: do you meet with us or not?" Kuleba said.
Ukrainian presidential press secretary Serhiy Nykyforov said that Zelensky would like to meet with Russian President Vladimir Putin, but the Russian side is not ready to discuss Crimea, so such a meeting will not make sense if the issue of occupied territories is not discussed.
op