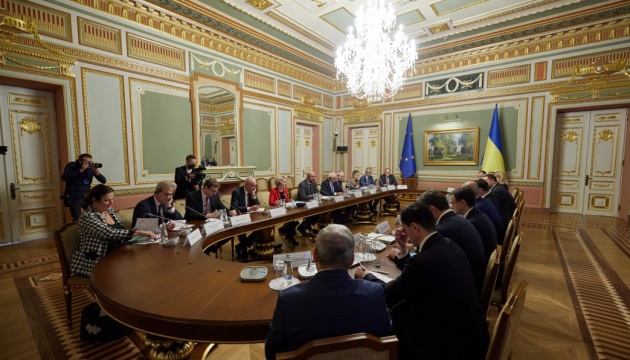 Brussels calls for reform of Constitutional Court, SBU
The participants in the Ukraine-European Union Summit stressed the importance of implementing judicial reform, as well as reforming the Constitutional Court and the Security Service.
That's according to a Joint Statement signed following the event, Ukrinform reports.
"We recognised the substantial progress made by Ukraine in its reform process and agreed on the need to further enhance these efforts. We welcomed the historic opening of the agricultural land market in Ukraine. We reconfirmed that comprehensive and consistent implementation of judicial reforms remains vital for strengthening Ukraine's resilience and its future success," the document said.
In this context, the Summit participants welcomed the adoption of the Amendments to the Laws of Ukraine "On High Council of Justice" and "On the Judiciary and the Status of Judges" crucial for the High Qualifications Commission of Judges to resume its work.
At the same time, the need for the swift implementation of these reforms and for the reform of the Constitutional Court has been highlighted.
In addition, the statement underlines the need for Ukraine to step up efforts to ensure the independent and effective operation of the anti-corruption and law enforcement institutions, including by a depoliticized and merit-based selection process for leadership positions.
The summit participants also stressed the importance of security sector reform, including the adoption of a law on the Security Service of Ukraine (SBU).
At the same time, the EU welcomed Ukraine's efforts "to close the space for corrupt practices and its commitment to fight the influence of vested interests ('de-oligarchisation') including through the legally sound enactment and implementation of the relevant legislation and encouraged further steps by Ukraine in this regard."
"The EU confirmed its continuous commitment to support Ukraine's efforts targeted at large-scale reforms, especially of the judiciary and the fight against corruption. Ukraine reiterated its commitment to ratify the Rome Statute as stated in the Association Agreement," the Joint Statement said.
As reported earlier, on October 23, Kyiv hosted the 23rd Ukraine-European Union Summit with the participation of Ukrainian President Volodymyr Zelensky, European Council President Charles Michel, and European Commission President Ursula von der Leyen.
im