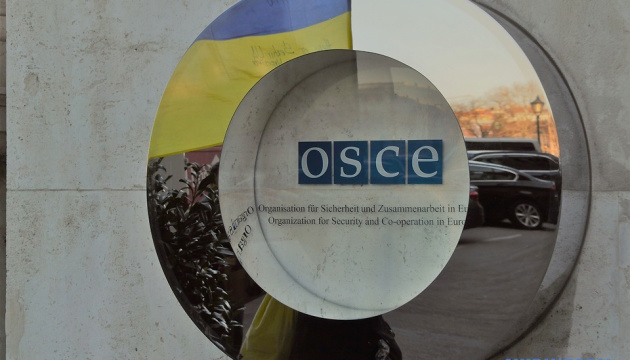 Ukraine at OSCE calls on Russia to comply with all documents within Minsk Agreements
Russia is attempting to avoid fulfilling the Minsk Protocol and the Memorandum on its provisions, insisting on the implementation of the Package of Measures for the Implementation of the Minsk Agreements exclusively.
That's according to Ukraine's Permanent Representative to international organizations in Vienna, Yevhen Tsymbaliuk, who spoke at a meeting of the OSCE Permanent Council on Monday, October 11, an Ukrinform correspondent reports.
Russia is trying to convince the Permanent Council of a special legal nature of the package of measures and give it some advantage over the Minsk Protocol and Memorandum, the diplomat said, at the same time noting that the political approval of the measures by the UN Security Council does not release Russia from its obligations under the other two agreements," said Tsymbaliuk.
The diplomat explained why the Russian delegation was so tense when other countries' delegates demanded that the Minsk Protocol and Memorandum be implemented
For example, Paragraph 4 of the Minsk Memorandum provides for the withdrawal of multiple rocket launcher systems such as the Tornado. In fact, the Tornado is a new system used exclusively by the Russian armed forces, which is a vivid example proving Russia's participation in the conflict, certified by a Russian signatory, Tsymbaliuk said.
He also recalled that Paragraph 10 of the Minsk Protocol provides for the withdrawal of illegal armed groups and military hardware from the territory of Ukraine, which he emphasized means this is about those whose presence has not been allowed by the Ukrainian parliament. Therefore it is only about Russian armed groups operating in the occupied territories, despite Russia's attempts to manipulate Paragraph 10 of the Package of Measures, said the Ukrainian diplomat.
In addition, he pointed out that Paragraph 4 of the Minsk Protocol provides for constant monitoring and verification of the Ukrainian-Russian state border, along with maintaining a security zone in the Ukrainian-Russian border areas.
As Ukrinform reported, the U.S. and EU missions to the OSCE reminded Russia that the Minsk Agreements, signed by the Russian Federation, consist of three documents - a protocol, a memorandum, and a package of measures.
im