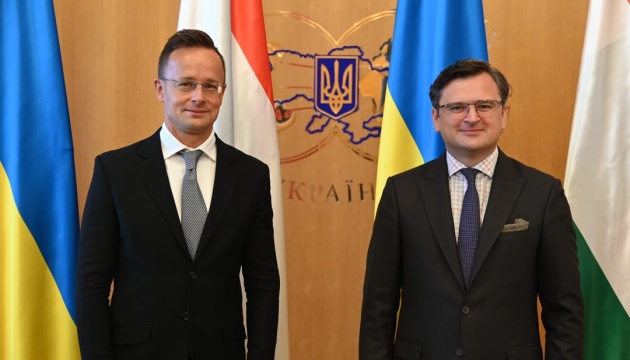 Kuleba ready for hard talk with Szijjarto
Ukraine is ready to negotiate with Hungary on complex problems in bilateral relations, Ukrainian Foreign Minister Dmytro Kuleba has said in an interview with Ukrinform during the Warsaw Security Forum.
"I know that [Hungarian Foreign Minister] Peter [Szijjarto] also participates in the forum, but we did not meet here. At the same time, I am open to this conversation. We do not lock the door. We need to find a way out of any situation and make a decision that will suit all parties," Kuleba said.
Earlier, the Ukrainian Foreign Ministry condemned Hungary's decision to sign a 15-year gas supply contract with Russia. The fifth meeting of the Ukrainian-Hungarian intergovernmental commission on economic cooperation was scheduled for September 29-30 in Budapest, but Kuleba did not attend the meeting. Szijjarto said that Kyiv would not decide for Budapest how to deal with the country's energy security.
Hungary agreed to buy 4.5 billion cubic meters of natural gas from Russia each year, with 3.5 billion cubic meters to be transported via Serbia and 1 billion cubic meters via Austria. Prior to that, Hungary received all gas volumes through Ukraine.
On October 1, Gazprom halted natural gas transit to Hungary through Ukraine.
Photo: Ukrainian Foreign Ministry