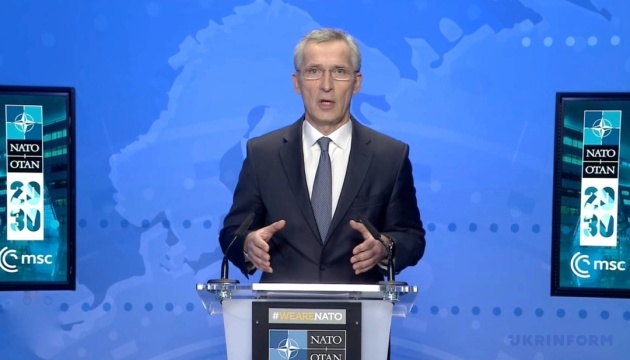 Stoltenberg: NATO should step up cooperation with aspirant countries
NATO Secretary General Jens Stoltenberg believes that NATO countries should step up cooperation with aspirant countries that want to join the Alliance, including Ukraine and Georgia.
He said this at Georgetown University in Washington on Tuesday, October 5, according to an Ukrinform correspondent.
"So therefore, my message to NATO Allies, and also something I discussed actually yesterday with President Biden, is that we need to step up and do more for those aspirant countries," Stoltenberg said.
According to him, the Alliance should provide more support, more training, more capacity building, help to implement reforms, fight corruption and build the security and defense institutions.
Speaking about the prospects for NATO enlargement, including the accession of Ukraine and Georgia, Stoltenberg noted that it's obvious that "it won't happen tomorrow." However, he criticized the position, including by some Western politicians, that this allegedly irritates Russia.
"First of all, it is important to establish some basic principles and values. And that it is the right for any sovereign nation to decide its own path. The whole idea that it's a provocation to Russia that small neighbors join NATO is absolutely wrong," Stoltenberg said.
In his opinion, it is the Russian side that provokes when it focuses on this.
"Some voices in the West would say: no, no, we should be careful because we're provoking Russia. But then you're saying that small countries don't have the right to choose their own path which is again a violation of their sovereignty," Stoltenberg said.
He recalled that Norway had once exercised this right in 1949, despite the fact that at that time the USSR and Joseph Stalin personally opposed it. "So we joined. We provoked Russia, maybe, but we are part of a very happy family," Stoltenberg said.
op