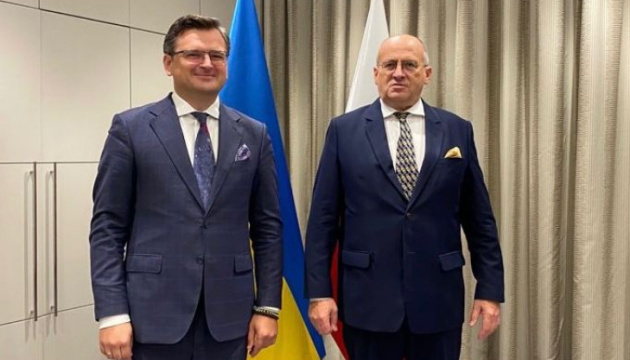 MFA: Kuleba garners Poland's support during its 2022 OSCE Chairmanship
Minister of Foreign Affairs of Ukraine Dmytro Kuleba and Minister of Foreign Affairs of Poland Zbigniew Rau discussed Poland's 2022 OSCE Chairmanship and the threats posed by Nord Stream 2 to Europe's energy security.
As the Ministry of Foreign Affairs of Ukraine reports, the chief diplomats discussed these issues during Kuleba's working visit to Poland.
"Nord Stream 2 undermines the security not only of Ukraine and Poland but of the whole of Europe. Russia already deliberately destabilizes gas supplies to European consumers and creates chaos in the market by rising gas prices. Ukraine and Poland are ready to jointly counter threats to the energy security and stability of the European continent," Kuleba stressed.
The ministers underscored the importance of the planned integration of the Ukrainian energy system into the European ENTSO-E.
The foreign ministers paid special attention to Poland's 2022 OSCE Chairmanship. Zbigniew Rau assured that the cessation of the Russian-Ukrainian armed conflict and the de-occupation of Crimea would remain key priorities for Poland's OSCE chairmanship. He expressed readiness to actively promote the implementation of the Crimea Platform objectives.
Kuleba invited his Polish counterpart as the OSCE Chairperson-in-Office to visit the demarcation line with the temporarily occupied territories of Donetsk and Luhansk regions in early 2022.
The diplomats also discussed topical issues of bilateral relations, in particular the implementation of the agreements reached following the visit of Prime Minister of Ukraine Denys Shmyhal to Poland on September 9.
Kuleba also raised the issue of the death of Ukrainian citizen Dmytro Nykyforenko in Wroclaw. In response, Rau reaffirmed the Polish side's commitment to conduct an impartial investigation to bring the perpetrators to justice.
In July, Poland's OSCE Chairmanship stated it would pay great attention to the peaceful settlement of the conflict in Ukraine on the basis of the Minsk agreements and full respect for Ukraine's sovereignty and territorial integrity within its internationally recognized borders.
Poland will take over the OSCE Chairmanship from Sweden on 1 January 2022.
ol