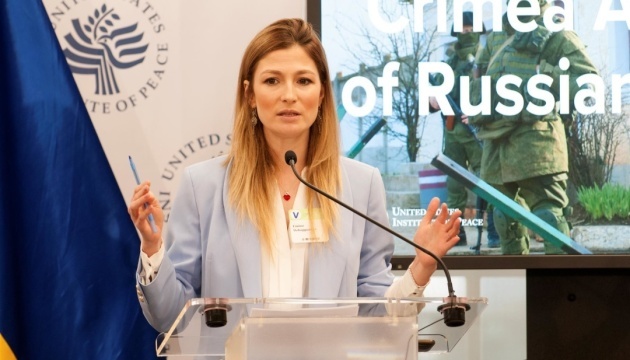 Dzheppar delivers statement on Russia's human rights violations in Crimea on behalf of 40 UN member states
During the 48th regular session of the Human Rights Council in Geneva, First Deputy Minister of Foreign Affairs of Ukraine Emine Dzheppar delivered the joint statement on the human rights situation in the Autonomous Republic of Crimea and in support of the Crimea Platform on behalf of 40 UN member states.
As the Ministry of Foreign Affairs of Ukraine informs, the joint statement condemns gross human rights violations by the Russian Federation in the temporarily occupied Crimea and expresses support for the Crimea Platform.
The signatories call on Russia to "comply with its obligations, in accordance with the rules of international law", condemn all attempts by Russia to legitimize its attempted annexation of Crimea, and the holding of Russian Duma elections on Ukraine's sovereign territory on 17-19 September, without the consent of Ukraine.
"We resolutely condemn the politically motivated searches and detentions of Crimean Tatars, in particular, Eldar Odamanov, Asan and Aziz Akhtemovs, Shevket Useinov, first deputy Сhairman of the Mejlis of the Crimean Tatar people Nariman Dzhelyalov," reads the statement.
The statement emphasizes the need for "Russia, as the occupying power, to comply with its obligations under international humanitarian law and in the field of human rights, to restore human rights of all residents of Crimea, to immediately and fully implement the order of the International Court of Justice of April 19, 2017, on the resumption of the activities of the Mejlis of the Crimean Tatar people and an end to oppression Crimean Tatars."
The signatories expressed support for the territorial integrity, political independence, and sovereignty of Ukraine within its internationally recognized borders and determination to work together to respect human rights and fundamental freedoms of all residents of Crimea.
The joint statement was signed by Ukraine, Albania, Australia, Austria, Belgium, Bulgaria, Canada, Croatia, Czech Republic, Denmark, Estonia, Finland, France, Germany, Georgia, Greece, Iceland, Ireland, Italy, Latvia, Liechtenstein, Lithuania, Luxembourg, Malta, Montenegro, Netherlands, New Zealand, Norway, Poland, Republic of Moldova, Portugal, Romania, Slovakia, Slovenia, Spain, Sweden, Switzerland, Turkey, the United Kingdom of Great Britain and Northern Ireland, the United States of America.
ol