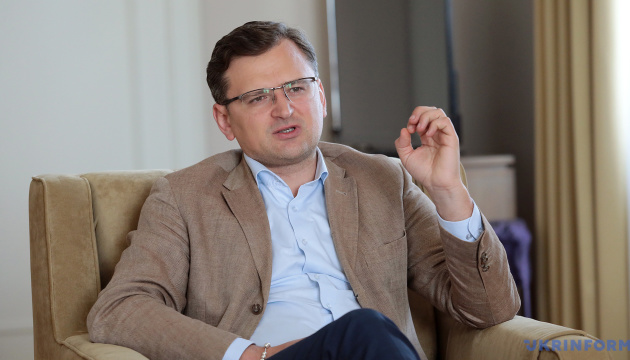 Kuleba names two tasks for U.S.-Ukraine Strategic Partnership Commission
The U.S.-Ukraine Strategic Partnership Commission will meet in late October or in the first half of November, Ukrainian Foreign Minister Dmytro Kuleba has said in an interview with Interfax-Ukraine.
"I think that a meeting of the commission will take place in late October or in the first half of November. No date has been set yet. We have two tasks. First, we need to restart this body, making it stronger and more effective. We have developed our vision of how we can do it, and we will discuss this with the Americans. Secondly, we need to adopt a new Strategic Partnership Charter that is in line with modern realities," Kuleba said.
According to him, the Strategic Partnership Commission is the driving force behind bilateral relations.
Kuleba said that representation in the commission would be maintained at the level of the U.S. Secretary of State and the Minister of Foreign Affairs of Ukraine.
"Frankly speaking, I believe that if we move to the highest level, we need only the format of the presidential council. In my opinion, we should move away from the model when the Ukrainian president's interlocutor is a U.S. vice president. This is a question of the status of bilateral relations. That is, if we are strategic partners, we need a mechanism for regular consultations between the presidents. This is my position as a minister. If we move to the renewal of this body, I will insist on such a model," he said.
Ukrainian President Volodymyr Zelensky and U.S. President Joseph Biden at a meeting in Washington in early September agreed to intensify the work of the Strategic Partnership Commission.
The tasks for the Ukrainian part of the Commission are to reform the commission, provide the U.S. side with a Ukrainian draft of the Strategic Partnership Charter and prepare a plan for the country's transformation.
op