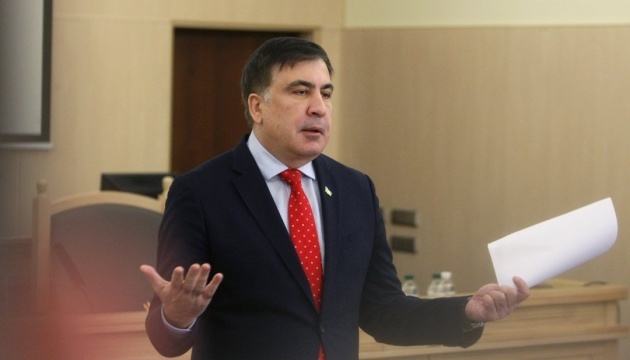 Saakashvili's return to Ukraine to be discussed at intergovernmental, diplomatic levels - Zelensky
The return of Mikheil Saakashvili, chairman of the Executive Committee of Ukraine's National Reform Council, to Ukraine will be discussed at the diplomatic level and the level of the governments of Ukraine and Georgia, President Volodymyr Zelensky has said.
He said this at a press conference in Truskavets on Sunday, October 3, according to an Ukrinform correspondent.
"Mr. Saakashvili is a citizen of Ukraine. Therefore, this also applies to him. All institutions - the Ministry of Foreign Affairs, our embassy operating in Georgia, at the level of the Georgian ambassador working in Ukraine, at the level of talks between our Cabinets of Ministers, and at the level of talks between the prime ministers - we will all be dealing with this issue," Zelensky said.
He stressed that the authorities should take care of Ukrainian citizens, including resolving the issue of their return to Ukraine if they get into trouble.
At the same time, Zelensky said he was surprised by Saakashvili's decision to travel to Georgia.
"As far as this interesting person, Mikheil Saakashvili, is concerned, I didn't know that he went to Georgia. I was very surprised. I learned about it in the press," Zelensky said.
He said that as president, he should think about him as a citizen of Ukraine. "And why he [Saakashvili] did so [...] probably, he thought it was a political step," Zelensky said.
At the same time, he described this step by Saakashvili as incorrect because all risks had to be taken into account.
Saakashvili early on Friday, October 1, posted a video on Facebook in which he said that he was in Batumi. However, Georgian Deputy Interior Minister Aleksandre Darakhvelidze later said that Saakashvili, who had announced his return home, had not left Ukraine. At the same time, in the evening, Georgian Prime Minister Irakli Garibashvili said that former Georgian President Mikheil Saakashvili was detained in the country on October 1.
The Ukrainian President's Office said it was closely following reports on Saakashvili's detention in Georgia.
op