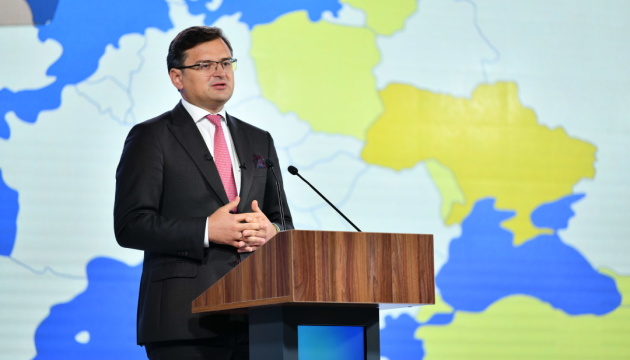 Kuleba: Normandy format's decisions adopted with Merkel to be relevant for her successor
The decisions made at the Normandy format summit with the participation of incumbent German Chancellor Angela Merkel will be relevant for the new Government of Germany.
"Germany has a hereditary foreign policy, so we feel certain that even if the Normandy format summit takes place now with the participation of Merkel, the decisions and commitments made will remain relevant for the new German government," Minister of Foreign Affairs of Ukraine Dmytro Kuleba told journalists, an Ukrinform correspondent reports.
Kuleba added that he was unalarmed about the coalition talks in Germany. He predicts that the new German government will be pragmatic and will not become anti-Ukrainian.
"It will primarily deal with internal German issues. Both Mr. Scholz [Social Democratic Party's candidate Olaf Scholz] and Mr. Laschet [Christian Democratic Union's candidate Armin Laschet] are clear to us, but the most important thing here is what the coalition agreement with liberals and Greens will be," Kuleba said.
According to the minister, there may be differences in nuances depending on the coalition agreement but he does not expect fundamental and drastic changes.
As reported, the Social Democratic Party of Germany won the elections to the Bundestag which took place on September 26.
Incumbent Chancellor Angela Merkel did not run for election. She will step down after a coalition is formed and a new chancellor is appointed.
On September 27, Kuleba said that Ukraine wanted to hold a Normandy format meeting before Merkel leaves office.
The previous Normandy format summit took place in Paris on December 9, 2019. Since then, only meetings of political advisers to the leaders of the Normandy format countries have been taking place.
ol