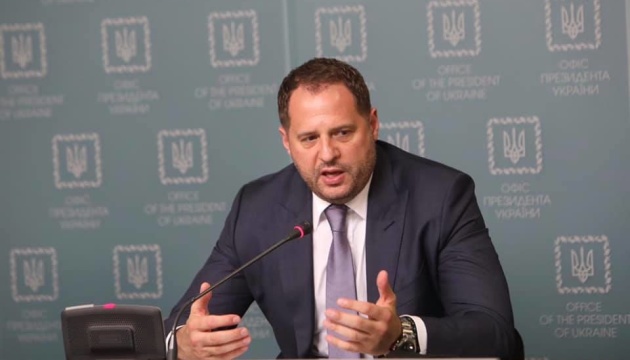 Ukrainian president's speech at UN General Assembly had powerful effect - Yermak
The speech by Ukrainian President Volodymyr Zelensky at the 76th session of the UN General Assembly was one of the most anticipated and had a powerful effect, Head of the President's Office Andriy Yermak has said.
He said this on the Freedom of Speech program on the ICTV channel on Monday, September 27, the presidential press service reported.
"There was a lot of attention [to the president's speech at the General Assembly]. We received a lot of messages and calls -- from the U.S. Department of State, from the White House, from European partners -- with very warm words of support and impressions from the president's speech. This had a very powerful effect," Yermak said.
According to him, Zelensky in his speech emphasized the need to reform the UN in order to increase its effectiveness, because this issue is long overdue.
"The president said the worst thing would be the UN turning into a League of Nations or a 'retired superhero.' Today, the challenges facing the world community are such that it is very important to change things like the abuse of the veto that we have seen in recent years, or the lack of equality between countries. The values and ideology with which the UN was created must be returned," Yermak said.
He noted that it was very important for residents of the occupied Crimea to hear Zelensky's words from the rostrum of the UN General Assembly about the need to return the peninsula to Ukraine's control. Yermak stressed that Ukraine expects the United Nations to sign the declaration of the Crimea Platform summit.
"We know how successful and powerful the Crimea Platform summit was, and how many delegations were present. The signature of the United Nations has not yet appeared, but the right to sign [the declaration] is open, and I think that over time there will be more participants and signatories of the declaration," he added.
Zelensky arrived on a working visit to the United States on September 20 to participate in the 76th session of the UN General Assembly in New York.
On September 21, Zelensky took part in the opening of the session, and on September 22, he addressed the UN General Assembly.
Photo: President's Office