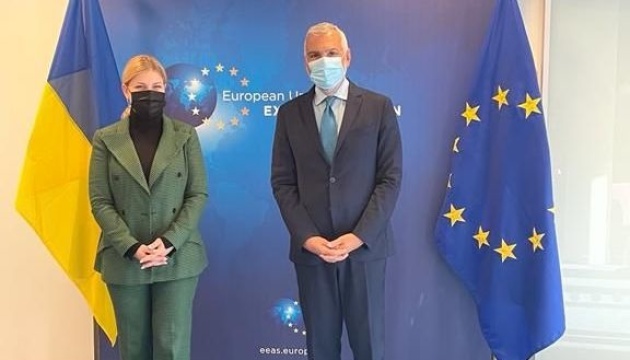 Stefanishyna informs EU about Ukraine's progress in achieving objectives of Association Agreement
In Brussels, Ukraine's Deputy Prime Minister for European and Euro-Atlantic Integration Olga Stefanishyna met with Secretary General of European External Action Service (EEAS) Stefano Sannino to discuss issues of preparations for the EU-Ukraine Summit, which is to be held in Kyiv on October 12.
Ukrinform reports this with a reference to the European integration portal.
Olga Stefanishyna informed her European counterpart about Ukraine's progress in achieving the objectives of the Association Agreement.
"Ukraine and the EU can strengthen the potential of the Association Agreement. The joint review of achieving objectives of the Agreement should define sectors where we can achieve more," Stefanishyna stressed.
The official noted significant progress in bringing the Ukrainian legislation closer to the rules of European Union law. In particular, she outlined the priority European integration legislative initiatives recently agreed and approved by the Government to accelerate sectoral integration.
In addition, the parties discussed the possibility of strengthening cooperation between Ukraine and the EU in the field of security, among other things, Ukraine's involvement in the initiatives of the EU Common Security and Defense Policy, primarily Permanent Structured Cooperation (PESCO).
Olga Stefanishyna agreed with Stefano Sannino on the next steps for a joint review of the Agreement after the presentation of internal assessments on the sidelines of the forthcoming summit. The parties also agreed on some political positions on non-recognition of the elections to the State Duma of the Russian Federation in Crimea, continuation of the sanctions regime imposed against Russia and joint actions within the framework of Crimea platform.
For his part, the Secretary General of the EEAS praised Ukraine's presentation of the assessment of the Agreement and assured the Ukrainian Deputy Prime Minister of further close cooperation and support for European integration reforms in Ukraine.
As Ukrinform reported, on September 27-28, Stefanishyna is on a working visit to Brussels as part of preparations for the Ukraine-EU summit.
iy