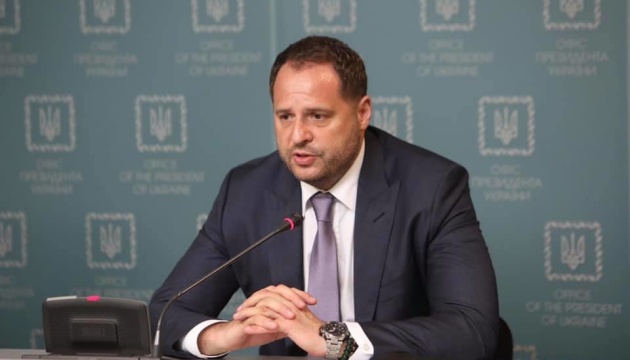 Yermak: Now's not the time to talk about UN peacekeepers in eastern Ukraine
During his visit to New York, President Zelensky did not raise the issue of the involvement of UN peacekeepers in resolving the situation in eastern Ukraine.
"The Ukrainian side is set against a frozen conflict. Therefore, the issue of possible deployment of blue helmets was not discussed [by Zelensky at UN]. And now, I think, we are not at the stage to discuss this question," Head of the President's Office Andriy Yermak said in the program "Freedom of Speech" on the ICTV channel, an Ukrinform correspondent reported.
Indeed, the United Nations has forces under its auspices to maintain peace but "in order to maintain peace, it must be achieved," Yermak noted.
"And in order to achieve it, we need to sit down at the negotiating table directly with the party to the conflict, which does not recognize itself as a party to the conflict, and reach agreements on the cessation of war, on the start of the return of our occupied territories," he said.
As reported, in September 2019, President Zelensky stated that he would support the presence of UN peacekeepers on the border with Russia but not in the territory of Ukraine.
ol