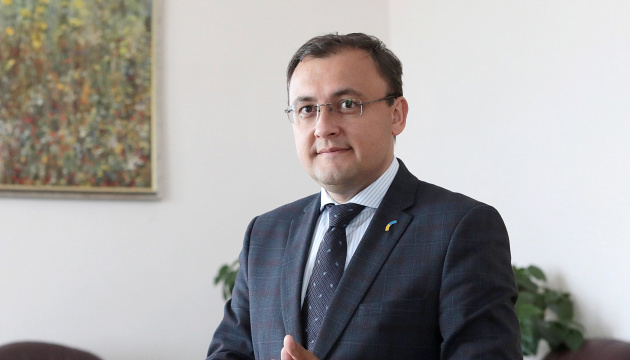 MFA explains why Kyiv does not severe diplomatic relations with Moscow
Ukraine considered the option of severing diplomatic relations with Russia but no other state agreed to take over the functions of protecting Ukrainians in Russia.
Deputy Minister of Foreign Affairs of Ukraine, Ambassador of Ukraine to Turkey Vasyl Bodnar said this on the air of the Dom TV channel, Ukrinform reports.
He noted that such a decision had to be made in 2014 when the active phase of hostilities began.
At the same time, there were millions of Ukrainians in Russia, and the armed conflict in the east increased their number. The activity of the Ukrainian embassy and consulates was needed to ensure the protection of their interests, Bodnar explained.
"Especially in 2014-2015, when the armed hostilities and the capture of our soldiers at the front were ongoing. In those days, our consulate in Rostov-on-Don, our other institutions in Russia actually worked 24/7 to help our citizens with treatment, contacts with relatives, etc," Bodnar said.
Kyiv considered the option of severing diplomatic relations with the Russian Federation, but that required handing over the protection of Ukrainian citizens to another state represented in Moscow.
"We gauged positions and none of the countries represented in Moscow agreed to represent our interests, given the amount of work that would need to be done to ensure the interests of our citizens ... Take, for example, Georgia, which severed diplomatic relations with the Russian Federation after the 2008 war. Now its interests are represented by Switzerland. However, the number of Georgian and Ukrainian citizens [in Russia] differs much," the deputy minister added.
Even now a significant number of Ukrainian citizens remain in Russia, Bodnar stressed. In addition, political prisoners from the occupied Crimea, who are in dire need of help, including from diplomats, are being held in Russian prisons.
"For the most part, our diplomatic presence there focuses on consular work. That is, consuls provide our citizens with documents, visit them prisons. Several thousand Ukrainians are in prisons there, plus the Kremlin's political hostages from Crimea. [Consuls] also represent our interests in the courts and other institutions. So this practical dimension overcame the emotional impulse to break off these relations," he said.
At the same time, according to Bodnar, diplomatic relations between Ukraine and Russia are at a low level, there are no ambassadors in both countries since 2014. Currently, several dozen Ukrainian diplomats work in Russia, Bodnar stated.
ol