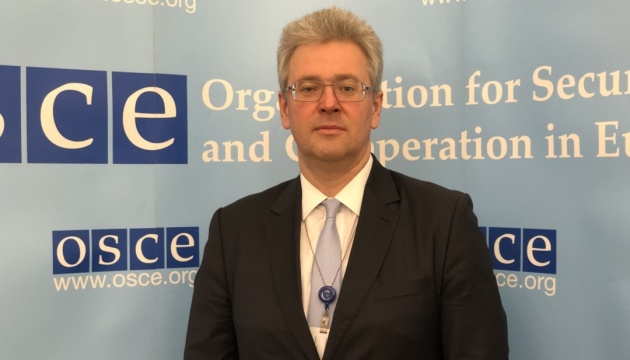 Ukraine calls on OSCE to react to restricted freedom of movement across border with Crimea
Ukraine has called on the OSCE Special Monitoring Mission to pay attention to restrictions on freedom of movement across the administrative border with Crimea.
According to an Ukrinform correspondent, Ukraine's Permanent Representative to the International Organizations in Vienna Yevhenii Tsymbaliuk said this at a meeting of the OSCE Permanent Council.
"Under the guise of restrictions on travel because of COVID-19, the Russian occupation administration has severely restricted travel for Ukrainian citizens coming to and from Crimea. And this is also something that the SMM should pay attention to. We expect the Mission to continue working on its past thematic report on freedom of movement across the administrative boundary line with Crimea, which was issued in June 2015," Tsymbaliuk said.
He said Moscow had also restricted movement across the line of contact in eastern Ukraine, making Ukrainian citizens in the occupied territories "disenfranchised hostages to Russia's geopolitical games."
"Despite security assurances from Ukraine, Russia continues to block the opening of two entry-exit crossing points near Zolote and Shchastia. The dire consequences of Russia's failure to meet even this very specific humanitarian commitment are detailed in the thematic report on the gender aspects of the SMM's monitoring, which was published several days ago," Tsymbaliuk said.
In this context, he added women make up 60% of the 1.5 million Ukrainian citizens who fled Russia-occupied Crimea and the temporarily occupied parts of the Donetsk and Luhansk regions.
op