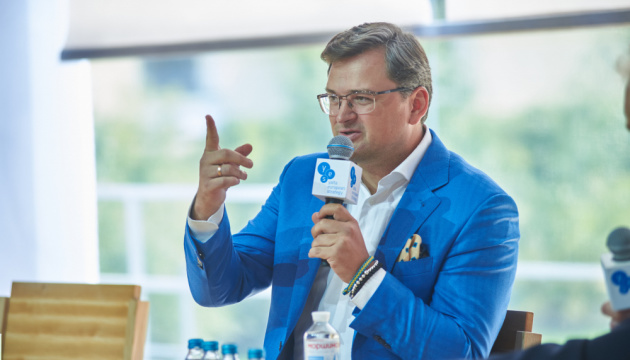 Ukraine aware of dangers of Russia, Belarus integration, foreign minister assures
Ukraine is well aware of all the threats stemming from the ongoing integration process between Belarus and Russia, although it has not yet raised the issue at the UN General Assembly.
That's according to Foreign Minister Dmytro Kuleba who spoke at a virtual briefing in New York, posted on his Facebook page, an Ukrinform correspondent reports.
"We are very aware of all the dangers of the integration process of Belarus and Russia, while ensuring the security of the state is also one of the priorities of our Foreign Policy Strategy. However, at the meetings here in New York, the issue hasn't been raised yet," Kuleba said.
He has noted the two key topics running through all meetings the president of Ukraine had in New York. The first is the release of Ukrainian political prisoners held by the Kremlin in the occupied territories of Ukraine and Russia.
"At each meeting, we pass on a list of these prisoners and ask for any help to have them released. And the second issue is the Crimea Platform, on which all our interlocutors comment very positively as we discuss further development of this initiative," said the head of Ukrainian diplomacy.
As reported earlier, on September 9, Russian President Vladimir Putin and Belarus's Alexander Lukashenko agreed on 28 programs to deepen the "integration" of the two countries. At the same time, international experts believe Russia is actually absorbing the neighboring country.
im