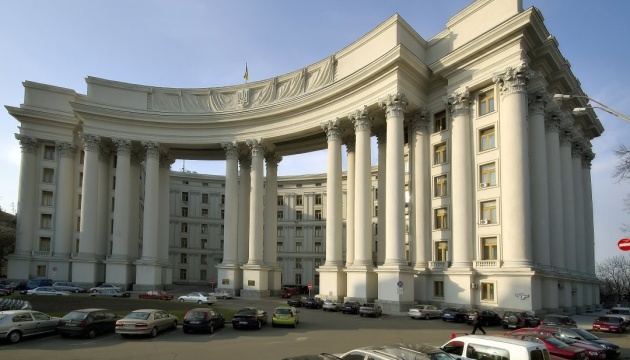 MFA Ukraine responds to Kremlin's accusations of Zelensky's "aggressive rhetoric"
The Russian Federation continues to disguise as public rhetoric its unwillingness to fulfill obligations to implement the Minsk agreements and the decisions of the Normandy Four summit.
That's according to a comment to Ukrinform by Foreign Ministry Spokesman Oleh Nikolenko.
"Behind the screen of noisy verbal attacks by the Russian Foreign Ministry, the purposeful policy is quite clear of destroying the infrastructure of the peace process: sabotaging the implementation of the Minsk agreements and the results of the summit of Normandy (Four – ed.) leaders, blocking the work of the Trilateral Contact Group, and obstructing the OSCE work," the official noted.
The Foreign Ministry spokesman noted that the latest examples of logic of further escalation, dominating in Moscow, include the illegal holding of Russian State Duma elections in Crimea and eastern Ukraine, and repression targeting Crimean Tatars.
Nikolenko reiterated the fact that the keys to peace in Ukraine lie in the Kremlin, but there is a lack of "resolute political will to move forward." According to him, when it appears, the rest of the issues will become a technical process.
"Russia can already take the first step: to accept the idea of meeting at the level of foreign ministers of the Normandy Four. The time to move from words to action is long overdue. Our country is ready for progress. At the same time, we clearly understand who we are dealing with. That is why we rely on both diplomacy and the army," the Foreign Ministry spokesman concluded.
As reported, Russian Foreign Ministry Spokeswoman Maria Zakharova said that the escalation is ongoing in eastern Ukraine place against the background of what she referred to as "aggressive rhetoric" by Kyiv officials. In this context, Zakharova mentioned the recent comment by President Volodymyr Zelensky, who admitted the possibility of an all-out war with Russia, as well as the statement by the Secretary of the National Security and Defense Council, Oleksiy Danilov, that the Ukrainian Army could regain territory from the so-called "DPR" and "LPR" Russia-controlled statelets. The spokeswoman for Russian diplomacy also said such statements "should be stopped by those handling Ukraine in the west."
im