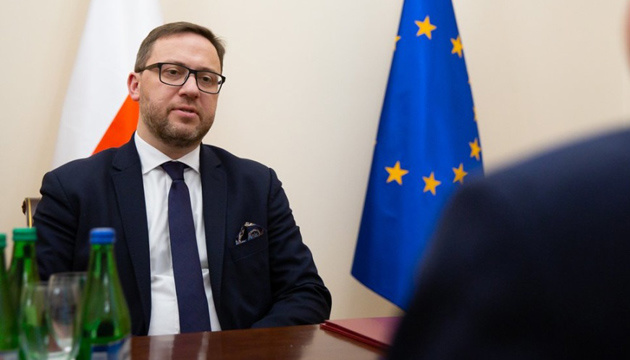 Ambassador of Poland offers Ukraine new diplomatic format
Ukraine should launch a format of consultations with the ambassadors of CE8 countries – Lithuania, Latvia, Estonia, Poland, the Czech Republic, Hungary, Slovakia, and Romania.
"There is a format of G7 Ambassadors, and that's very good. They do a lot for reforms in Ukraine. And I suggest thinking about the CE8 diplomatic format in Kyiv, involving ambassadors of the Baltic states, the Visegrad Group, and Romania," Ambassador of Poland to Ukraine Bartosz Cichocki said during the 1st Ukrainian Central European Forum in Kyiv, an Ukrinform correspondent reported.
According to the diplomat, he would recommend Ukrainian politicians "to meet with CE8 Ambassadors, not only with those of G7 countries." Moreover, Austria could join this consultation format.
According to Cichocki, the situation has not changed for the better lately: "I mean the summit of the presidents of the United States and Russia in Geneva, the US-German statement on Nord Stream 2, the completion of its construction, and what happened in Afghanistan and is happening in Belarus."
"From our point of view, this bad dynamic should consolidate us, the region should be cemented, unite… The countries of our region are victims of this bad dynamic, and we must jointly find an answer to these challenges and threats," the Ambassador said.
At the same time, he pointed to the first signals that Ukraine and Poland "understand the situation well" – a joint statement by the two countries' foreign ministers in late July on the consequences of launching Nord Stream 2, Andrzej Duda's "unequivocal statement" at the Crimea Platform summit on August 23, and a meeting between the prime ministers of Poland and Ukraine on September 9.
"Together, we expect real guarantees for gas transit through Ukraine. We all understand that Nord Stream 2 creates a security deficit… but also coerces us into political consolidation," said the Ambassador of Poland.
ol