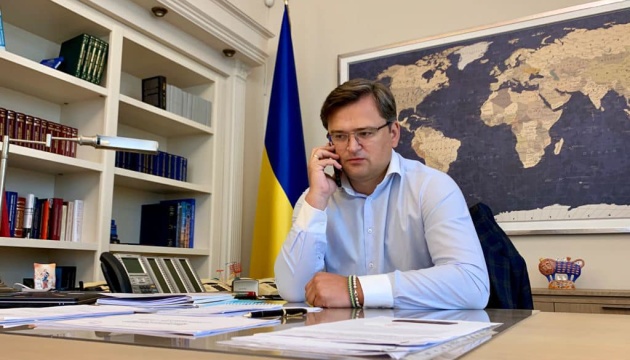 Kuleba outlines Ukraine's three priorities for new session of UN General Assembly
In a telephone conversation with President of the 76th session of the UN General Assembly, Minister of Foreign Affairs of Maldives Abdulla Shahid, Minister of Foreign Affairs of Ukraine Dmytro Kuleba outlined Ukraine's three priorities for this session.
"The key priority of our foreign policy, enshrined in the Foreign Policy Strategy, remains the fight against Russian aggression and the restoration of the territorial integrity of Ukraine. The inaugural summit of the Crimea Platform, which consolidates the international efforts to de-occupy Crimea, took place in Kyiv on August 23. We expect the UN to provide full support for its activity as achieving the ultimate goal of the Crimea Platform – the return of Crimea – will restore respect for the UN Charter and stop gross violations of international law," Kuleba said, the Ministry's press service informs.
Kuleba highlighted Ukraine's intention to convene a debate on the situation in the temporarily occupied territories during this session of the UN General Assembly.
According to him, the second priority of Ukraine at the 76th session of the UN General Assembly will be to improve the living conditions of Ukrainians in the territories affected by Russian aggression in Donetsk and Luhansk regions.
"The UN has the knowledge, experience, and technology to implement projects to restore areas affected by armed conflict. We are interested in more active UN efforts in the region, in particular in the areas of humanitarian demining, development of medical, educational, housing and utilities infrastructure," Kuleba said.
He noted that overcoming the COVID-19 pandemic and its socio-economic consequences would be the third priority.
"All countries must get equal access to vaccines, have sufficient resources to effectively counter the pandemic and restore economy. Ukraine is ready for effective cooperation with the UN in order to strengthen the Ukrainian health care system and socio-economic protection of the most vulnerable categories of citizens," the Ukrainian minister stressed.
Kuleba wished Shahid success in achieving the goals of the 76th session of the UN General Assembly and stressed his readiness to cooperate. He noted that Ukraine as one of the founding member states of the United Nations, advocated strengthening the role of the Organization in solving urgent problems of international relations.
"We are ready, together with the current presidency of the General Assembly, to make joint efforts to resolve armed conflicts, restore the global economy after the COVID-19 pandemic, and combat climate change," he said.
As reported, the 76th session of the United Nations General Assembly (UNGA) opened in New York on September 14.
ol