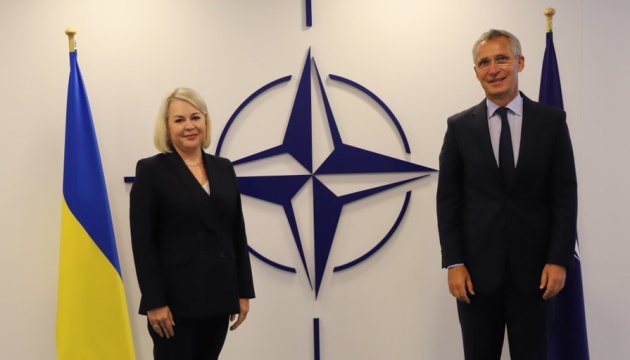 Head of Ukraine's Mission to NATO kicks off her work with Stoltenberg meeting
The newly-appointed head of Ukraine's Mission to NATO, Natalia Galibarenko, launched her work at the new post by meeting with NATO Secretary General Jens Stoltenberg.
That's according to the Mission's tweet, Ukrinform reports.
"I am sincerely grateful to Mr. Stoltenberg for the opportunity to meet on my first working day in office. We have agreed to work together to deepen relations between Ukraine and NATO," the Mission said, quoting Galibarenko as saying.
As Ukrinform reported earlier, on July 30, President Volodymyr Zelensky appointed Natalia Galibarenko Head of Ukraine's Mission to NATO.
The Mission of Ukraine to NATO is a diplomatic mission to an international organization established to ensure Ukraine's continued cooperation with the Alliance and to participate in the Euro-Atlantic Partnership Council. The position of Head of Mission had been vacant since August 2019.
im