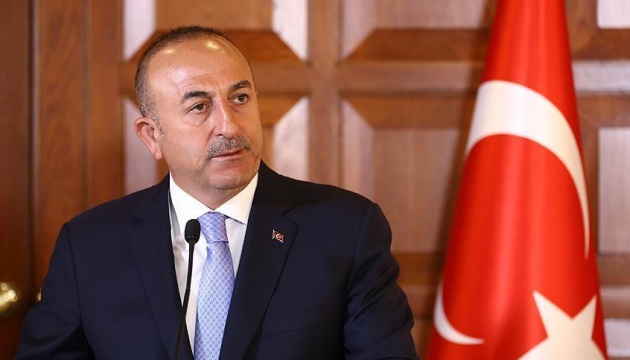 Turkey to never recognize Crimea annexation attempt by Russia, vows to continue supporting Crimean Tatars – minister
Turkey does not recognize the attempted annexation of Crimea by Russia and will support Crimean Tatars and defend their rights.
That's according to Turkish Foreign Minister Mevlut Cavusoglu who spoke at a meeting with non-governmental organizations in Eskişehir, Ukrinform reports referring to Haberler.
"We have never recognized the annexation of Crimea. And won't. We will continue to defend the rights of Crimean Tatars to the end," the minister said in his address.
He also stressed that Turkey is "one of the leaders" in the Crimea issue and reaffirmed its position on the Crimea Platform diplomatic initiative.
Earlier, the Turkish Foreign Ministry said that the country was monitoring the situation regarding the arrest of Nariman Dzhelyalov, Deputy Head of Crimean Tatars' Mejlis, and expecting he will be released along with other held Crimean Tatars.
As Ukrinform reported earlier, on September 3 and 4, security forces conducted a number of illegal searches in Crimean Tatars' homes in the occupied Crimea before they detained Nariman Dzhelyalov, First Deputy Chairman of the Crimean Tatar People's Mejlis, as well as activists Eldar Odamanov, Aziz and Asan Akhtemovs, and Shevket Useinov.
On September 6, the Simferopol District Court ordered that Dzhelyalov and the Akhtemov brothers be held in custody until November 4. Adamanov and Useinov were ruled to be held for 14 and 15 days, respectively, for resisting police.
The prosecutors then amended the charges initially pressed against Nariman Dzhelyalov, illegally detained in the occupied Crimea. He is now being accused of committing an attack on a gas pipe feeding a military unit in Crimea (instead of the earlier charges of aiding and abetting the crime).
On September 10, the Verkhovna Rada of Ukraine adopted a statement calling on the international community to condemn yet another wave of repression against Crimean Tatars in the occupied Crimea.
President Volodymyr Zelensky sees the latest raids and arrests in the temporarily occupied Crimea as Russia's reaction to the launch of the Crimea Platform and demands that those detained be released.
Photo: AA
im