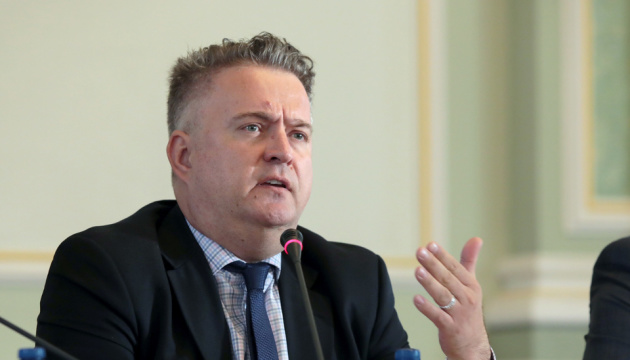 Kyslytsia calls on UN member states to join Crimea Platform
Ukraine's Permanent Representative to the United Nations Sergiy Kyslytsia called on all UN Member States that were unable to take part in the inaugural summit to join the Crimea Platform declaration.
As an Ukrinform correspondent in New York reports, Kyslytsia said this when speaking at a meeting of the UN General Assembly before the vote to keep the item "Situation in the temporarily occupied territories of Ukraine" on the agenda of the session.
"I would like to call on all UN Member States that were unable to take part in the inaugural summit to consider joining the Declaration, which remains open, and vote in favor of today's procedural decision of the General Assembly," he said.
Kyslytsia explained that the Crimea Platform is a new consultative and coordination format aimed at increasing the effectiveness of the international response to the temporary occupation of the peninsula. Its goal is the de-occupation of Crimea and the peaceful return of control over it to Ukraine.
He pointed out that the Russian occupation authorities after the Crimea Platform summit "only intensified the repressive practice against Ukrainian citizens who seek to fully enjoy their human rights and fundamental freedoms."
The diplomat said that on September 3 and 4, FSB officers detained five Crimean Tatars, including First Deputy Chairman of the Mejlis of the Crimean Tatar people Nariman Celal. "The fact that Mr. Celal publicly supported the Crimea Platform and took part in its inaugural summit is obviously the real reason for his persecution," Kyslytsia added.
He also recalled that in 2014, the General Assembly, in resolution 68/262 "Territorial integrity of Ukraine", reaffirmed its commitment to the sovereignty, political independence and territorial integrity of Ukraine within its internationally recognized borders.
According to the permanent representative, keeping this item on the agenda gives the General Assembly the opportunity to consider the situation in the temporarily occupied territories of Ukraine "comprehensively, in all its complexity, including political, humanitarian, social, human rights, gender, and other aspects."
"The consideration of this issue at plenary sessions for three years in a row "testifies to the growing attention of the international community to the continuation of flagrant military actions against Ukraine, which continue to undermine international peace and security," Kyslytsia summed up.
ish