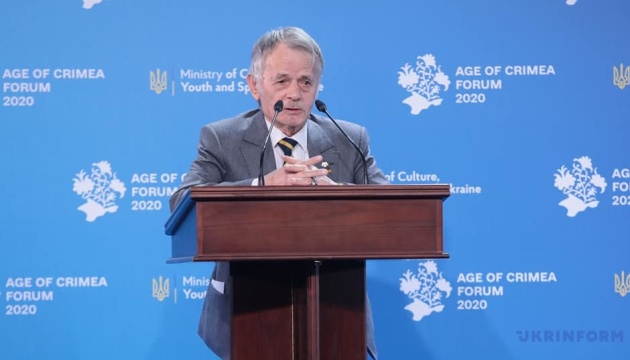 World must determine where "red line" is drawn in relations with Russia – Dzhemilev
To counter Russia's aggressive policy, the international community must determine where the "red line" must be drawn in relations with the aggressor power.
That's according to Musfata Dzhemilev, leader of the Crimean Tatar people, who spoke at the inaugural Summit of the Crimea Platform August 23, an Ukrinform correspondent reported.
"Four months ago, French President Emmanuel Macron told CBC that Russia's invasion of Ukraine was a result of unfounded collective trust in Russia on the part of Western powers, and that clear red lines should now be drawn in relations with Russia. To us, these seem to be quite encouraging words, because it clearly means that, in the end, Western powers, the international community will take some sort of measures to thwart further aggressive policies Russia has been pursuing. And here, it's a very important question for us of where exactly this red line passes," said Dzhemilev.
According to him, Russia has long crossed all possible "lines."
"The division and, in fact, occupation of part of Moldova, the seizure of large areas in Georgia, occupation of parts of Ukraine, the slaying of thousands in Syria by their own troops and puppet forces, millions of refugees who have filled so many countries, gangster-style cyberattacks to meddle in foreign elections, the assassinations of own citizens preaching different views, the use of globally banned chemical weapons, and much more – does it all not indicate that Russia has long crossed all possible lines?" said Dzhemilev.
According to the politician, today the international community should be guided not only by national interests, but also by thinking about collective world security.
"Is it not in the interests of all countries to live in a world ruled by law, not by force, and where violators of this principle must be punished? <…> Isn't it clear that, if the seizure of one country's territory remains unpunished, no other country will be able to remain completely safe?" Dzhemilev declared.
He reminded of the Crimean Tatar proverb that the kingdom of jackals lasts until lions wake up and rise to their feet."
"We very much hope that the world community will soon rise to its feet so that the law, rather than brute force, triumphed on earth. This is the purpose of our Crimea Platform and the declaration that will be signed here," Dzhemilev said.
As reported earlier, the Crimea Platform inaugural Summit, attended by 46 delegations, was held in Kyiv on August 23.
The Crimea Platform is a new consultative and coordination format initiated by Ukraine to step up the efficiency of international response to the occupation of Crimea, respond to growing security challenges, increase international pressure on Russia, prevent further human rights violations, protect victims of the occupation regime, and achieve the main goal: to have Crimea deoccupied and to restore Ukraine's sovereignty over the peninsula.
im