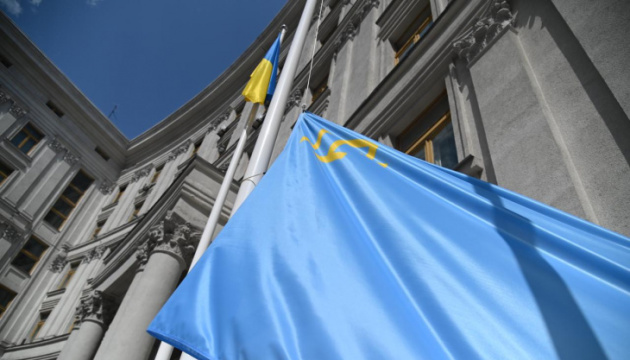 Number of Crimea Platform summit participants grows to 40 - Kuleba
The total number of participants in the inaugural summit of the Crimea Platform initiative has increased to 40, according to Ukrainian Foreign Minister Dmytro Kuleba.
He said this at an online briefing on Friday, August 13, Ukrinform reports.
"International support for Crimea Platform is growing. Today, I am pleased to announce that we have reached the round figure. We have 40 confirmations of participation in the Crimea Platform summit," he said.
Kuleba recalled that a memorandum would be adopted at the summit on August 23, which will be open to further accession by states that could not take part in the inaugural summit.
"Therefore, in fact, support for Crimea Platform will be even greater and I am convinced it will continue to grow," he said.
Kuleba said he was convinced that the launch of the platform would correct the mistake when no mechanism of systematic work on the de-occupation of Crimea was created in the first years of the Ukrainian war with the Russian aggressor.
The diplomat also noted the launch of the official website of the Crimea Platform initiative https://crimea-platform.org/.
"It [the website] will develop, and new foreign language versions of this page will be launched. It will be a permanent platform for the online functioning of the Crimea Platform. On this website you will be able to find up-to-date information about this important initiative," Kuleba said.
The website contains the following main sections: Crimea before occupation, Crimea under occupation, Crimea Platform, the Crimea Platform expert network, and the summit itself.
Earlier reports said that singer Jamala would open the Crimea Platform summit in Kyiv on August 23 with her song "1944."
On August 6, Kyiv hosted a forum of Crimea Platform experts.
The Crimea Platform is a new consultative and coordination format initiated by Ukraine to step up the efficiency of international response to the occupation of Crimea, respond to growing security challenges, increase international pressure on Russia, prevent further human rights violations, protect victims of the occupation regime, and achieve the main goal of de-occupying Crimea and restoring Ukraine's sovereignty over the peninsula.
op