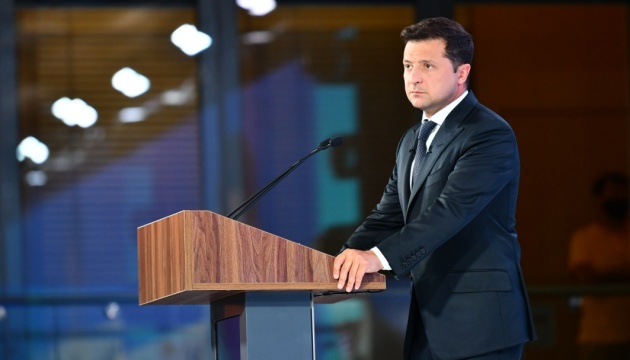 Zelensky approves communication strategy for Ukraine's Euro-Atlantic integration
Ukrainian President Volodymyr Zelensky has approved the communication strategy for Ukraine's Euro-Atlantic integration until 2025, the President's Office has reported.
According to the report, in order to implement Ukraine's strategic course for gaining full membership in NATO and ensuring its support by Ukrainian citizens, President Volodymyr Zelensky signed Decree No. 348/2021 "On the Communication Strategy for Ukraine's Euro-Atlantic Integration until 2025."
The document is aimed at establishing a systematic information interaction between government agencies and Ukrainian citizens in order to convey to every Ukrainian the content and practical value of Ukraine's membership in the North Atlantic Alliance, the need for implementing appropriate reforms and their connection with the country's Euro-Atlantic integration.
Among other things, the strategy proposes to fully inform Ukrainian society about the state policy towards Euro-Atlantic integration by including this issue in curricula, involving independent experts, including representatives of research centres, NGOs and international partners, in planning, monitoring and evaluating the implementation of annual national programmes in terms of achieving NATO membership criteria.
It is expected that the steps envisaged by the strategy will contribute to the growth of support in Ukrainian society for Ukraine's strategic course towards full membership in NATO and support at the international level for Ukraine's Euro-Atlantic aspirations and the necessary reforms.
The head of state also gave the government three months to draw up and approve an action plan for the implementation of the approved strategy.
The strategy is to be implemented in four stages. Among other things, it is planned to create a thematic website for posting information on the implementation of reforms and measures on Euro-Atlantic integration, the release of a number of informational and educational materials, etc.
The decree comes into force from the date of its publication.
op